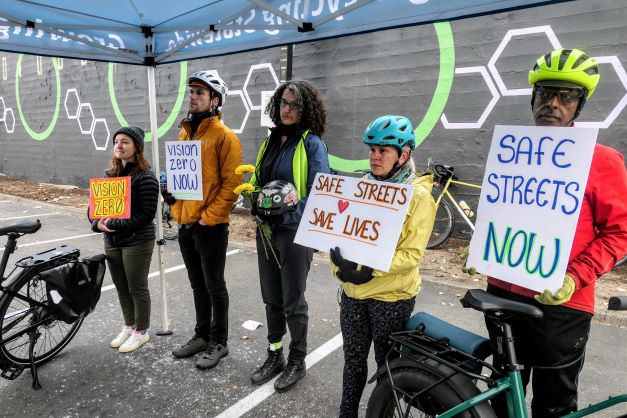 Washington Bikes is moving bills that would reduce impaired driving, impose restrictions on drivers who injure people biking or walking, increase access to driver education, and toughen penalties for drivers who kill or injure others.
Read our update on our WA Bikes 2023 legislative agenda.
Last year was the deadliest on Washington state roads since 1990. The number of people being killed or injured by motor vehicles while walking, bicycling, or rolling has spiked upward to rates not seen in decades.
Washington Bikes is fighting to stem this crisis of traffic violence by compelling legislators in Olympia to approve common sense laws and reforms during the 2023 session that would:
increase access to driver education;
remove dangerous drivers from the road;
reduce drunk or impaired driving;
impose stiffer penalties on drivers who kill or injure others.
"Our streets should be getting safer but in fact they are becoming deadlier. Many of the norms of safe driving have broken down since the pandemic. We are seeing more speeding, more reckless and impaired driving, more road rage, and more hit-and-run crashes," says Vicky Clarke, Washington Bikes policy director.
"We need more protected bike infrastructure, more sidewalks, more traffic calming and more complete streets that are engineered to prevent drivers from making deadly mistakes," Clarke says. "Those improvements will take time. We must also act now to change driver behaviors in ways that make them safer and more aware."
Not all safety bills made it past initial cutoff deadlines, including our #WrongOnRed bill aimed at improving the safety of intersections and crosswalks for people biking and walking, and a bill that would have educated consumers on the dangers of bigger, heavier vehicles. Read on for an update on the WA Bikes 2023 legislative agenda at the midpoint of the legislative session.
WA Bikes Priority Bill: Get Bad Drivers off the Road
Senate Bill 5216 and House Bill 1319 would require a driver's license to be reviewed when the driver crashes into someone walking or biking and causes "substantial bodily harm," a legal term that includes broken bones or worse.
"Under current law you can crash into someone walking or riding their bike, break their arm or leg, and as long as you don't kill or permanently disfigure them, you get to keep your license without any review by the state. That's bananas," Clarke says. "Driving is a privilege, not a right, and with that privilege comes the responsibility to avoid crashing into innocent victims. Frankly, it's a pretty low bar."
Also Support: Penalties for Reckless Drivers who Injure or Kill
HB 1112 would increase penalties for deadly driving. Under current law, a driver who kills a vulnerable road user can escape stiff penalties if they admit guilt.
This bill would create a new offense of Negligent Driving with a Vulnerable User Victim. A violation of this law would be a gross misdemeanor punishable by up to 364 days of imprisonment, a fine of no less than $1,000, and the suspension of driving privileges for 90 days.
"People who cause a death while driving in a negligent and dangerous manner should be held accountable," Clarke says.
We Support: Safer Young Drivers, Decriminalizing Walking
Data shows that driver education works. In Washington state, however, people who wait until age 18 to get a license are not required to take a driver education course.
SB5430 would create a voucher program to cover the average cost of driver's education courses for persons in low-income households who have not previously obtained a motor vehicle license. This bill would improve both safety and equity.
Walking across the street shouldn't be a crime. That's why we support HB1428 to allow people to walk across the street when it's safe to do so. It's time to repeal the crime of "jaywalking," which has historically been used to disproportionately target people of color.
We Support: Lowering the Blood-Alcohol Limit
Drunken or impaired drivers are responsible for more than half of all traffic fatalities. Washington Bikes supports a bill to reduce the legal blood-alcohol limit to .05.
The goal of SB 5002 is to change behavior and make people think twice before getting behind the wheel when drinking. If approved, the state would develop a public information campaign to make the public aware of the law change.
"With the popularity of rideshare apps like Uber and Lyft, it has never been easier to get a sober ride home," Clarke says. "Take a taxi, designate a sober driver if you're out with friends or family, use public transit or walk."
Critics say this proposed law won't work. Data shows otherwise. Traffic fatalities decreased in Utah after that state lowered its legal limit to .05, according to a National Highway Traffic Safety Administration study. Other groups including the National Academy of Sciences, the National Safety Council, the National Transportation Safety Board, theWashington Traffic Safety Commission, and Mothers Against Drunk Driving agree that .05 saves lives.
#WrongonRed, Higher Fees for Deadlier Vehicles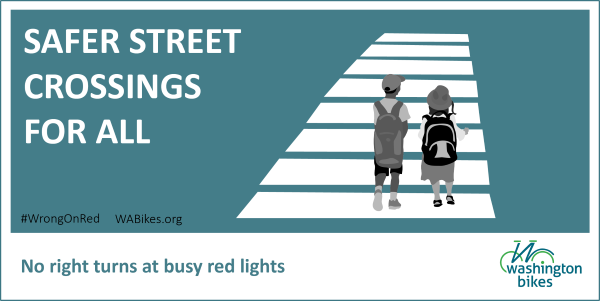 Washington Bikes worked with legislators to draft bills that would restrict right turns on red near schools and at certain intersections where lots of people use the crosswalks. Crosswalks should be safe places. Instead, they are one of the most dangerous locations for people biking and walking.
Drivers of vehicles making right turns at red lights frequently do not stop or look both ways as required by law. Instead, they roll through without checking if vulnerable road users are present–with dangerous consequences.
Our #WrongonRed bills failed to get voted out of House and Senate committees despite overwhelmingly supportive public comments. "We hope to revive these bills in coming sessions once hesitant legislators have had more time to learn about this issue," Clarke says.
Another bill that appears dead for the session is one that proposed increasing fees for the heaviest and deadliest vehicles that pose the greatest risk to people biking and walking.
"Automobile safety regulation is a federal issue, and we urge Congress to take a look at this issue. There are technologies being deployed in other countries such as pedestrian airbags and devices that can save the lives of people who are hit by motor vehicles," Clarke says.
The Climate Emergency and Bicycling
Biking for transportation has incredible potential to both reduce climate pollution and improve the resiliency, health, and sustainability of our communities.
That's why Washington Bikes supports SB5452, which would allow communities to use impact fees charged to developers to pay for bicycle infrastructure improvements.
Washington Bikes also supports efforts to strengthen the groundbreaking Climate Commitment Act approved in 2021 that creates a program for reducing climate pollution from some of the state's largest polluters. Revenues would be spent on a host of initiatives including efforts to reduce carbon emissions from transportation, and to fund a statewide school-based bike education curriculum for our state's youth.
Keep up to date on our priority legislation in our Washington Bikes Bill Tracker, and sign up for Action Alerts and our e-newsletter to stay informed about upcoming votes.