Timeline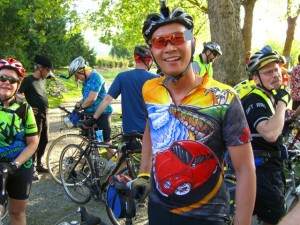 1987
Founded as Northwest Bicycle Foundation (NowBike).
1992
January: Don Bullard hired as the first Executive Director.
May: Published first issue of the NowBike Memo, the predecessor to The Advocate newsletter.
1993
NowBike organized and conducted six effective advocacy workshops in the communities of Seattle, Tacoma, Spokane, Wenatchee, Yakima and Vancouver.
1994
July:  Susie Stephens named Executive Director.
September:  Organized the Friends of Burke Gilman Trail.
Fall:  Merged with the Bicycle Federation of Washington and expanded scope of work statewide.  Changed name to Northwest Bicycle Federation.
1995
January: Put forth HB 1984 – Bicycle Safety Education Bill.  Did not pass.
Spring:  Led a successful campaign to restore $5 million in the Transportation budget that was diverted away from bicycle projects.
October: Organized Footprints & Bike Tracks conference, held in Bellevue, for bicycle and pedestrian advocates.
1996
February: Hosted a meeting for bike clubs and bike advisory boards to discuss legislative issues.
April:  Organized Heels & Wheels Commuter Contest in King County.
Summer:  Executive Director Susie Stephens pedaled to several Washington communities, including Yakima, Ellensburg and Longview, to meet with bike advocates, civic groups and elected officials.
Provided guidance and organizational assistance to Friends of the East Lake Sammamish Trail.
1997
March:  250 advocates turned out for our first Bicycle & Transportation Alternatives Lobby Day in Olympia.
May:  Organized the second Heels & Wheels Commuter Contest.
Summer:  Teamed up with Alt-Trans (now Transportation Choices Coalition) to visit 13 Washington communities on the People Smart Transportation Tour.
1998
March: Cooper Jones Bicycle Pedestrian Safety Education bill signed by Governor Gary Locke. The bill created a bicycle and pedestrian safety education program under the Washington Traffic Safety Commission.
August: Changed name to Bicycle Alliance of Washington.
November: Barb Culp named Executive Director
1999
March:  Bicycle Alliance submitted an amicus brief in Pudmaroff v. Allen, arguing that a bicyclist in a crosswalk has the same rights, duties and obligations as a pedestrian.  Supreme Court agreed.
Summer:  Worked with DOL to incorporate information about bicycling into the Driver's Guide.
December:  Bicycle Alliance made a presentation before the House Transportation Committee.
2001
Launched Bike Buddy commuter program.
April:  Led the effort to pass SB 5790, strengthening criminal sanctions against motorists whose dangerous driving severely injures others.
2002
Spring/Summer:  Worked with local bike groups to organize a series of Pedal with your Politician rides around the state.
Testified before the Governor's Taskforce on Reauthorization of TEA-21 and called for Routine Accommodation (now called Complete Streets).
2003
Successfully opposed an attempt to require registration and licensing of bicycles in Washington.
Adopted Safe Routes to School as a priority.
2004
Worked with WSDOT, bike clubs and ride organizers to update policy guidelines for events on state highways.
Spring: Secured $1 million in WSDOT budget to support a Safe Routes to School demonstration grant.
Helped with development of Inland Northwest Trails Coalition.
2005
Legislature approved Share the Road specialty license plate.
Passed HB 1108, prohibiting passing when cyclists, pedestrians, farm equipment is in view and approaching from opposite direction (Ann Weatherill bill).
Passage of SB 5186, requiring comprehensive plans to include an inventory of bicycle and pedestrian facilities.
2006
January:  Began managing the Seattle Bikestation facility.
Successfully opposed a bill that would have prohibited bike trailers on roadways.
Helped organize Fish Lake Trail Action Group in Spokane.
2007
June:  Gordon Black named Executive Director.
Co-organized a Safe Routes to School Summit.
Worked with DOL to incorporate into private Driver's Ed programs a new curriculum that teaches motorists safe driving habits around bicyclists.
2008
Washington named #1 Bicycle Friendly State in the US in first year League of American Bicyclists ranks states.
Passed legislation that requires public school driver's education programs to incorporate the safe driving around bicyclists and pedestrians module into their curriculum (HB 2564)
May: Worked with local advocates to launch Bike to Work Week in Spokane (later to become Spokane Bikes).
2009
Washington named #1 Bicycle Friendly State 2nd year in a row.
January: Barb Culp returns as ED.
Passed a bill requiring that all new traffic signals must be able to be triggered by bikes (SB 5482).
Taught nearly 800 students in Moses Lake, Bainbridge Island and Oak Harbor school districts safe biking/walking skills under a pilot project through OSPI.
Safe Routes to School program enacted into statute (SHB 1793).
2010
Washington named #1 Bicycle Friendly State 3rd year in a row.

Co-sponsored a series of Complete Streets workshops around the state.
Helped pass a bill that makes texting/handheld cell use a primary offense (HB 2635/SB 6345).
Reached over 4000 bicyclists through various outreach events around the state.
2011
Washington named #1 Bicycle Friendly State 4th year in a row.
Passed legislation that expands teaching drivers how to behave safely around bicyclists and pedestrians to traffic schools (HB 1129).
Helped pass a bill that created Complete Streets grant program under WSDOT (ESB 1071).
Trained teachers in 31 school districts how to instruct students on safe biking and walking skills.
2012
Washington named #1 Bicycle Friendly State 5th year in a row.
Barb Culp retired.
August: Barb Chamberlain named Executive Director.
2013
Passed Neighborhood Safe Streets Bill, empowering cities to lower speed limits to 20mph on residential streets without conducting a traffic engineering study (HB 1045).
Worked successfully to increase funding for bike/walk projects to an all-time high: over $40 million in the biennial budget.
November: Changed name to Washington Bikes.
2014
2015
2016
The merger goes into effect. Washington Bikes is now headquartered at the Cascade Bicycling Center in northeast Seattle.
2017
The state Legislature created the Cooper Jones Bicyclist Safety Advisory Council, in honor of the legacy of Cooper Jones, who was hit and killed by a car while riding his bicycle.
2018
Led legisation to update the state e-bike law to allow Class 1 and Class 2 e-bikes on shared paths.
Strengthened the 2011 vulnerable road user law (HB 2900) to ensure that families of crash victims can seek justice.
2019
Represented the interests of people who bike, walk, and roll statewide on the new Cooper Jones Active Transportation Safety Council, which merged the Pedestrian and Bicyclist Safety Councils.
Passed the Safe Passing / Vulnerable User Law, which requires drivers to give people biking, walking, rolling, scooting, or otherwise vulnerable to cars a full lane when passing if possible, or at least three feet of space. The law also strengthened penalties for drivers.
Endorsed and helped pass King County Prop 1 to increase trail funding at major trails such as Eastrail, East Lake Sammamish Trail, and the Lake to Sound Corridor.
Washington was named the #1 Bike Friendly State for the 11th year running
2020
Modeled after the Oregon scenic bikeways program, the state Legislature approved a Washington scenic bikeways program. The program will bring economic and tourism benefits to Washington state while celebrating the beauty of our beautiful rural communities.
With a major win for people who bike, we passed the Safety Stop, similar to the Idaho Stop, to allow people biking to treat a stop sign as a yield if there is no oncoming traffic.
We hosted our first virtual (and free) Bike, Wall, Roll Summit with more than 600 registrants.
2021