Move Ahead Washington funds will benefit bike infrastructure statewide and speed up completion of key segments on the 42-mile Eastrail, including making two former railroad bridges bikeable and extending the trail into Renton.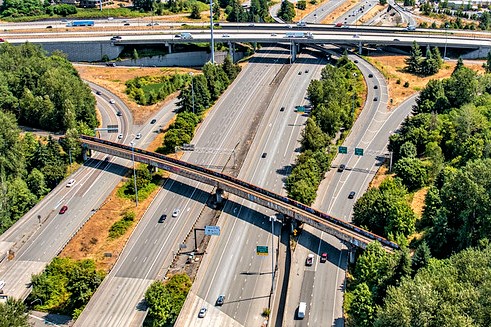 The Eastrail bike and multi-use trail has received $29 million in state money to accelerate work and close gaps in the regional 42-mile route.

When completed, Eastrail will enable people to bike from Renton in the south, through busy Bellevue, Kirkland, and Redmond, and onward to Woodinville and Snohomish County. While many segments of Eastrail are rideable now, multiple expensive bridge projects along this disused railroad corridor must be completed to link these trail segments into a continuous trail.

Work on two of these bridges will be fast-tracked thanks to $29 million included in the Move Ahead Washington Transportation package approved by the state Legislature and signed into law by Gov. Inslee this spring. The package includes a historic $1.3 billion in funding for biking and walking infrastructure projects and programs.

Washington Bikes played a crucial role in securing the funding by working with legislative leaders and the legislation's sponsors to ensure passage.

Funds allocated for Eastrail will be spent on bridges in Bellevue and Woodinville, as well as for planning and land acquisitions to extend Eastrail into downtown Renton from its current southern terminus.
$18 million will be used to complete work on the Eastrail corridor through Bellevue, with more than half of the amount spent to convert the steel railroad bridge, above, that crosses over Interstate-90 into a bike and pedestrian bridge.
$5 million will be used to retrofit a trestle over State Route 202, above, as the first step in connecting Eastrail to downtown Woodinville.
$6 million will be spent on planning and land purchases to extend the trail from Gene Coulon Park, where the trail end, into Renton. From Gene Coulon Park the Eastrail would link to other regional trails in South King County that converge in Renton.

"This historic level of funding from the legislature for Eastrail and bike and pedestrian projects across Washington state will make bicycling safer and more accessible for many more people," said Vicky Clarke, policy director for Cascade Bicycle Club. "It's great to see momentum to complete Eastrail grow. This progress builds from years of advocacy and organizing by Cascade to encourage trail owners to expedite rail removal and get the trail open to the public to use and enjoy now, not just someday. It's great to see the state fund these two bridges. Bridges are the big ticket items along the corridor, and sharing the costs means getting the trail open sooner."

"Eastrail is all about connecting communities, and this state transportation funding helps shorten the to-do list of Eastrail projects needing funding as we build a fully connected, safe, and accessible trail for all," said Eastrail Partners Board President Edna Shim, who thanked state Rep. Vandana Slatter, governmental partners, and nonprofits who advocated for the funding.

More Trail Segments Opening this Summer

In addition to the above projects, work on Eastrail is ongoing with monies from other public and private sources. This summer, King County Parks will open two new miles of hard packed gravel trail between Kirkland and Woodinville.

The City of Woodinville is working on a dedicated off-street path that will connect Eastrail to the nearby Sammamish River Trail, enabling people to bicycle south toward Redmond or north toward the Burke-Gilman Trail that travels around the top of Lake Washington and down into Seattle.

In Kirkland, construction is scheduled to be completed this year on the new Totem Lake Connector bridge. One of the biggest projects ongoing is the conversion of the historic Wilburton trestle in Bellevue into a bike and pedestrian bridge. Eastrail Partners has secured $9.5 million from Amazon, Meta, and REI to retrofit the Wilburton Trestle and complete the Northup Connector that will link Eastrail to the SR-520 bike path.

In the big picture, Eastrail will be a major artery in the Leafline trail system, a region-wide effort to connect trails in King, Pierce, Snohomish, and Kitsap counties. Eastrail will tie together the east-west SR-520 bike path and I-90 bike path that both cross Lake Washington to Seattle. It will also enable folks to pedal onto the Mountains to Sound Greenway Trail under construction between Bellevue and North Bend. When completed, the Mountains to Sound Greenway Trail will connect to the 290-mile Palouse to Cascades State Park Trail that runs through an old railroad corridor all the way to Idaho.

"These funds come to our Eastrail projects at a great time," said King County Parks Director Warren Jimenez. "This helps us move forward with progress at key connection points in Renton and Bellevue, making more of this truly transformative community asset available even sooner than we would have hoped. Our shared vision of an integrated regional trail system with easy connections to light rail is getting closer every day."

More Eastrail News

Read an in-depth interview with Eastrail Partners Executive Director Katherine Hollis on The Urbanist.
Read our previous post about new Eastrail trail segments that opened last fall.
Learn more about the Legislature's spending package for bicycling improvements in the Washington Bikes press release: "Washington Bikes Celebrates Passage of Largest Funding Package for Bicycling Infrastructure and Bike Education in Washington History."