Bike Maps in Washington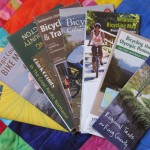 Washington state bike maps and mapping tools can help you plan your next bike ride or commute route.  Below is an alphabetical listing of state and local bike and trails maps for Washington State. Spokane bicyclists launched a crowd-sourced map of bike parking; if your town has one of those let us know and we'll add that too.
Where Can't I Ride My Bike in Washington?
Please visit WSDOT's map of Permanent Bike Restrictions along highways and state routes. Note, some of these routes do not allow bikes on the roadway, but may have dedicated bike and pedestrian access directly adjacent to those routes (such as the I-90 and SR 520 bridges across Lake Washington). Interact with the map by clicking on the desired route to see these details.
Other Maps and Mapping Tools