About Us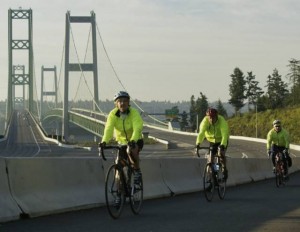 About us:
Washington Bikes increases investments to build and maintain bicycle connections as well as safe places to walk and roll; provides tools for local advocates to improve their communities; and promotes the health, safety, and economic benefits of bicycling. Our work and that of our many partner organizations means more people biking all across Washington, the #1 Bicycle Friendly State in America (every year since 2008)! 
Washington Bikes' vision:
We envision a safe and healthy future where bicycles bring people together, eliminate inequity, and create thriving communities.
Washington Bikes' mission:
Washington Bikes promotes the health, safety, environmental, and economic benefits of bicycling. We advocate for people who bike, endorse political candidates, and hold officials accountable. We collaborate with community members and public officials to shape policies and investments in active transportation that create equitable, sustainable, and thriving communities across Washington state.
Our history:
At the beginning of 2016, Washington Bikes and Cascade Bicycle Club merged. Both organizational names continue and both work statewide, with programs redistributed between Cascade Bicycle Club as a 501(c)(3) public charity and Washington Bikes as a 501(c)(4) advocacy organization.
Our supporters are the key to our success in growing bicycling statewide. With your help our accomplishments include:
Contact Us
More About Us