Washington Bike Plans
Other statewide bicycling resources on our site: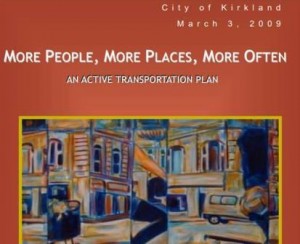 Many Washington communities do some form of planning for bicycles. These bike plans—often an element in the local transportation plan or a transportation section in the comprehensive plan—address gaps in the local bicycle network and the community's desire for bike facilities. We have compiled links to local, regional and state bike plans and listed them alphabetically. If we are missing your community's bicycle plan, please send us the link.
Anacortes
Nonmotorized Element of Transportation Plan:
http://www.cityofanacortes.org/Planning/CompPlans/Transportation2007/index.htm
Arlington
Transportation and Parks/Recretion elements of Comprehensive Plan:
http://www.arlingtonwa.gov/index.aspx?page=144
Bainbridge Island
Nonmotorized Transportation Plan:
http://www.ci.bainbridge-isl.wa.us/non-motorized_transportation_plan.aspx
Bellevue
Pedestrian-Bicycle Plan:
http://www.bellevuewa.gov/pedbikeplan.htm
Bellingham
Pedestrian Master Plan:
http://www.cob.org/services/planning/transportation/pedestrian-master-planning.aspx
Bicycle Master Plan:
http://www.cob.org/services/planning/transportation/long-range-planning.aspx
Benton-Franklin Counties
Regional/Metropolitan Transportation Plan:
Bremerton
Transportation Element of Comp Plan:
http://www.ci.bremerton.wa.us/forms/communitydev/compplan/transportation.pdf
Burien
Pedestrian & Bicycle Facilities Plan:
http://www.burienwa.gov/DocumentCenter/Home/View/1004
Centralia
Transportation Element of Comprehensive Plan:
http://www.cityofcentralia.com/Page.asp?NavID=396
Chehalis
Transportation Element of Comprehensive Plan:
http://ci.chehalis.wa.us/building/2011-comprehensive-plan
Cheney
Transportation Element of Comprehensive Plan:
http://www.cityofcheney.org/index.php?section=long-range-planning
Clark County
Bicycle and Pedestrian Master Plan:
http://www.clark.wa.gov/planning/bikeandped/documents/10-1110_BPMP-Plan-wo-Appendices_PC_approved.pdf
Clarkston (Lewiston ID and Clarkston WA Valley Bike Master Plan underway)
http://www.lewisclarkmpo.org/2189/Bicycle-Master-Plan
Cowlitz-Wahkiakum Counties
Regional Transportation Plan:
http://www.cwcog.org/transportation.htm#Plans
Ellensburg
Nonmotorized Transportation Plan:
http://www.ci.ellensburg.wa.us/index.aspx?NID=404
Enumclaw
Transportation Element:
http://cityofenumclaw.net/vertical/sites/%7BC3A65262-3453-4AAA-814D-612424C36C79%7D/uploads/Chapter_5_Transportation_and_Circulation_-_03-13-2012.pdf
Everett
Bicycle Master Plan:
http://www.everettwa.org/Get_PDF.aspx?pdfID=4465
Grays Harbor Region
Biking Assessment:
http://www.ghcog.org/biking_assessment.html
Transportation Planning:
http://www.ghcog.org/transportation.htm
Island County
Non-Motorized Trail Plan:
http://www.islandcounty.net/publicworks/trails.htm
Jefferson County
Active Transportation:
http://www.co.jefferson.wa.us/publicworks/active_transport.asp
Kennewick
Transportation Systems Plan:
http://www.go2kennewick.com/go2kennewick/dmdocuments/Transportation_System_Plan.pdf
Kent
Nonmotorized Technical Report:
http://www.ci.kent.wa.us/transportation/BikeWalk/
King County
Open Space Plan – Parks, Trails and Natural Areas:
http://www.kingcounty.gov/recreation/parks/about/openspaceplan.aspx
Transportation element of Comprehensive Plan:
http://www.kingcounty.gov/property/permits/codes/growth/CompPlan/2012Adopted.aspx
Kirkland
Active Transportation Plan:
http://www.kirklandwa.gov/depart/Public_Works/Transportation___Streets/Active_Transportation_Plan.htm
Kitsap County
Bicycle Facilities Plan:
http://www.kitsapgov.com/pw/bikeplan.htm
Liberty Lake
Parks, Recreation, Open Space & Trails Plan:
http://www.libertylakewa.gov/documents/Planning_Building_Services/Parks_Plan/Parks_Recreation_Open_Space_Trails_Plan_Update_10-5-10-website.pdf
Longview
Transportation Element of Comprehensive Plan:
http://www.mylongview.com/compPlan/compplan_elements.html
Lynnwood
Sidewalk and Bicycle Plan:
http://www.ci.lynnwood.wa.us/City-Services/Streets–Traffic-and-Transportation/Multi-Choice-Transportation-System.htm
Marysville
Transportation Plan Element:
http://marysvillewa.gov/documentcenter/view/123
Mason County
Regional Trails Plan:
http://www.co.mason.wa.us/forms/parks/trails_plan_2008.pdf
Comprehensive Plan:
http://www.co.mason.wa.us/code/comp_plan/index.php
Moses Lake
Activity Trails Master Plan:
http://www.cityofml.com/DocumentCenter/Home/View/256
Mount Vernon
Transportation Element:
http://www.mountvernonwa.gov/DocumentCenter/View/20
Olympia
Olympia Bicycle Master Plan:
http://olympiawa.gov/community/~/media/Files/PublicWorks/Transportation/BicycleMasterPlan.pdf
Palouse Region (Asotin, Columbia, Garfield and Whitman Counties)
Regional Transportation Plan:
http://www.seweda.org/publications-prtpo/
Pasco
Bike-Ped Master Plan:
http://www.pasco-wa.gov/?nid=820
Pierce County
Nonmotorized  Transportation Plan:
http://www.co.pierce.wa.us/index.aspx?NID=2978
Regional Trails Plan:
http://www.co.pierce.wa.us/?nid=1361
Port Angeles
Comprehensive Plan:
http://www.cityofpa.us/comDevCompPlan.htm#Details
Port Townsend
Non-Motorized Transportation Plan:
Pullman
Pedestrian Bicycle Circulation Plan:
http://www.pullman-wa.gov/departments/planning
Puget Sound Region (King, Pierce, Snohomish and Kitsap Counties)
Bicycle and Pedestrian Regional Planning:
http://psrc.org/transportation/bikeped
Puyallup
Transportation Element of Comprehensive Plan:
http://www.cityofpuyallup.org/services/development-services/planning-services-1/comprehensive-plan-1/
Redmond
Transportation Master Plan:
http://www.redmond.gov/PlansProjects/Transportation/TransportationMasterPlan/
Renton
Trails and Bicycle Master Plan:
http://www.rentonwa.gov/uploadedFiles/Living/PBPW/TRANSPOR/1_FINAL_MP_Parts_1-4_2009-08-05.pdf
Richland
Citywide Transportation Plan:
http://www.ci.richland.wa.us/?nid=489
San Juan County
Transportation Element of Comprehensive Plan:
http://www.co.san-juan.wa.us/planning/compplan.aspx
Seattle
Bike Master Plan:
http://www.seattle.gov/transportation/bikemaster.htm
Pedestrian Master Plan:
http://www.seattle.gov/transportation/pedestrian_masterplan/
Skagit County
Skagit Regional Nonmotorized Plan:
http://www.skagitnonmotorized.org/
Snohomish County
Transportation Element of Comprehensive Plan:
http://www1.co.snohomish.wa.us/Departments/Public_Works/Divisions/TES/ProgramPlanning/transpelement.htm
Spokane
Master Bike Plan:
https://my.spokanecity.org/projects/bicycle-master-plan/
Pedestrian Master Plan:
https://my.spokanecity.org/projects/pedestrian-master-plan/
Spokane Valley
Bicycle Pedestrian Master Program:
http://www.spokanevalley.org/content/124/938/210/948/1216/1297.aspx
Tacoma
Mobility Master Plan:
http://www.cityoftacoma.org/Page.aspx?hid=12894
Thurston County
Transportation Element of Comprehensive Plan:
http://www.co.thurston.wa.us/planning/comp_plan/comp_plan_document.htm
Vancouver
Bicycle Element of Transportation Plan:
http://www.cityofvancouver.us/bike.asp?menuid=10466&submenuID=23027&itemID=23512
Wenatchee
Greater Wenatchee Bicycle Master Plan:
http://www.wvtc.org/bike-plan/
Whatcom County
Pedestrian and Bicycle Plan:
http://www.co.whatcom.wa.us/boards/bpac/pdf/WhatcomPedBikePlanRev0102.pdf
Yakima
County Trails Plan:
http://www.yakimacounty.us/transportation/Trails/2008_Yakima_County_Trails_Plan_Adopted_052708.pdf
Yakima Valley Metropolitan/Regional Transportation Plan:
http://www.yvcog.org/pages/PlanUpdate.html
Washington State
State Bicycle Facilities and Pedestrian Walkways Plan:
http://www.wsdot.wa.gov/bike/bike_plan.htm
State Trails Plan:
http://www.rco.wa.gov/documents/rec_trends/Wa_Trails_Plan-1991.pdf