Washington Bike Laws
Looking for information on Legislation? Check out our Legislative Issues page.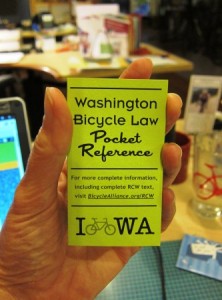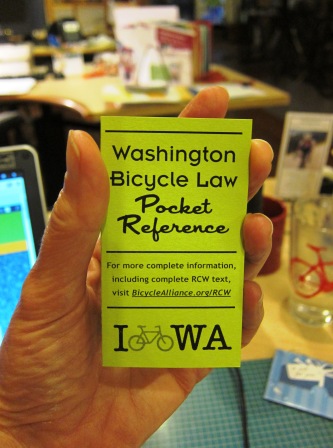 Want a pocket-sized guide to Washington state laws about bicycles? Just ask! If you're a member of Washington Bikes you'll receive one when you renew. If you want large quantities we'll request a tax-deductible donation to cover the cost of printing and postage. Contact Elly with your request.
Laws
Everyone biking, driving, or walking needs to understand and follow the current laws and rules of the road.
How Do Bike Laws Get Passed?
Washington Bikes leads the efforts in Washington state to pass better laws for bicycling. Our Advocacy page will tell you whether we have a current Action Alert for you to contact state legislators.
If you want to work for local ordinances such as Complete Streets or the Neighborhood Safe Streets Law ("20 Is Plenty") Washington Bikes helped pass, start with the basics in our Bike Advocate Toolkit.
Helmets
Washington state does not have a statewide requirement to wear a bike helmet. Check the list linked here to know the law in local jurisdictions.
Articles, Other Information
If you've had a crash
We're building a list of attorneys who specialize in bicycle-related legal opinions. Appearance on this list does not reflect a rating of their legal abilities–we leave that to systems that are set up for it. We list them because they specialize in Washington state bike law and they're engaged with WA Bikes in helping work for better laws.