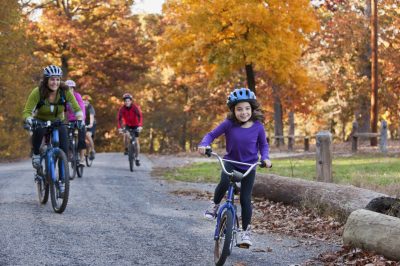 Check your mail: your ballot has arrived for the August 6 primary! This year, a critical levy is on the ballot in King County to improve parks, trails, and open space. Washington Bikes recommends voting yes on King County Prop 1. Take the pledge now and let us know you will be voting yes for trails!
I pledge to vote YES on Prop 1!
People who bike, walk, and roll our region's trails today know that the number one issue for trails is that there simply aren't enough of them. Prop 1 includes significant funding to grow and fill gaps in our regional trails network, in addition to other benefits for the zoo, aquarium, and land conservation. Washington Bikes and our affiliate, Cascade Bicycle Club, have both endorsed Prop 1 because of the scale of investment in trails – including several long-standing priorities.
Five Reasons to Vote YES on Prop 1 (in no particular order)
Connects Woodinville to Renton on the Eastrail (formerly Eastside Rail Corridor)
The Eastrail promises game-changing connectivity between five of the Eastside's major fast-growing cities. This levy moves us closer towards connecting King County's portion of the 42-mile Eastrail, and makes the timely investment to ensure people have more ways to enjoy the outdoors, get to school, work or access light rail. Let's connect the Eastrail!
Completes the long-awaited East Lake Sammamish Trail
Prop 1 enables the construction of the final segment of the East Lake Sammamish Trail, a connection two decades in the making. Connecting Issaquah and Redmond, the East Lake Sammamish Trail is a key link so that people biking will be able to travel all the way from the start of the Burke-Gilman Trail in Seattle to the foothills of the Cascades on a fully-paved network of connected, convenient, and safe regional trails.
Connects South King County by bike via the Lake to Sound Trail
The Lake to Sound Trail will connect five cities in South King County, from Lake Washington in Renton to the shores of Puget Sound in Des Moines. Prop 1 fills gaps between existing segments of the trail to connect Renton, Tukwila, Burien, Normandy Park, and Des Moines by trail. Intersecting with four other regional trails, the Lake to Sound Trail marks important progress to connect South King County by bike.
Grows local dollars for local investments: $60 million for King County cities
If you live in a city in King County, you stand to benefit twice from Prop 1. In addition to new trail connections, Prop 1 creates a competitive county-wide grant program for cities to fund local trail connections and other recreation opportunities.
The growing Community Partnerships and Grants Program enables community groups from across the county to engage meaningfully in trail planning. By addressing equity, we're excited to see how this program will help realize King County's Race and Social Justice Initiative.
Take the pledge to vote yes for trails:
Need to register to vote or update your address on your current voter registration? Click this link — you have until July 29 to do so!