The WA state Legislature approved $5 million for rebates of up to $1,200 for electric bike purchases.
State budget also includes $2 million for the creation of e-bike lending programs.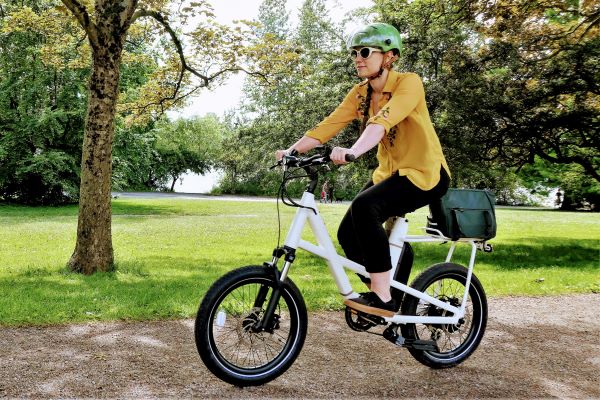 Washington state has become the eighth state to approve rebates or incentives for purchasing electric bikes, an important tool to get more people out of cars and onto bicycles for climate, equity, and sustainability goals.
Gov. Jay Inslee recently signed into law a budget package that will appropriate up to $7 million over the next two years to support the purchase of electric bikes and create e-bike "lending libraries."
The incentive program will allow e-bike buyers to get a $300 point-of-sale rebate regardless of their income. Individuals with lower incomes can receive rebates of up to $1,200. Households with incomes at or below 80 percent of their county's median income would qualify for the higher rebate.
The proposed law would allot $5 million for these rebates. Purchases would have to be made at brick-and-mortar bike shops rather than online, and bike-related equipment could qualify for the rebates.
An additional $2 million would be used to create e-bike lending programs managed by municipalities, businesses, tribes, or nonprofits.
These electric bike incentives were a top policy priority for Washington Bikes, which has made the case that e-bikes are an affordable and equitable way to reduce climate pollution from transportation.
"This state investment in e-bike accessibility means that many more Washingtonians will have the opportunity to own or borrow an e-bike, whatever their income level," said Vicky Clarke, Washington Bikes policy director. "Electric bikes empower people to get around affordably, sustainably, and efficiently without a motor vehicle. These investments will reduce Washington state's climate pollution from transportation by enabling more people to hang up the car keys and pedal instead."
In the coming months, the Washington State Department of Transportation's Active Transportation Division will develop the two incentive programs, likely using Denver's successful rebate program as a model. It's unclear when the rebates will be available to consumers. 
"The state now has a lot of work to implement these incentive programs, and we hope they will be available to consumers in 2024," Clarke said.
A Growing National Movement for E-Bikes
Washington state's e-bike incentives are modeled on successful programs in other states and municipalities including Denver's highly popular point-of-sale rebate.
Washington joins California, Colorado, Connecticut, Hawaii, Massachusetts, Rhode Island, and Vermont with statewide e-bike incentive programs, according to the Transportation Research and Education Center at Portland State University. These statewide programs are among 142 proposed or active rebate and incentive programs offered by states, provinces, municipalities, electric utilities, nonprofits and businesses across North America, according to the center's electric bike incentive tracker.  
Many studies show that people who own e-bikes drive less, and some give up car ownership altogether.
"Kudos to legislators and the governor for approving this expenditure, and especially to Senate Transportation Chair, Marko Liias, for prioritizing these incentives in a challenging budget year," said Clarke. "We also thank Senator Sharon Shewmake–an avid e-biker herself–for her leadership shaping and supporting these state-level e-bike incentives for the past several years."
Shewmake, D-Bellingham, commutes by e-bike to her job as a professor of environmental economics at Western State University. Shewmake has said that promoting electric bike use not only reduces climate pollution but also eliminates the hassles of parking, steep car payments, and urban traffic congestion.
E-Bike Lending Libraries
Clarke said the lending programs will help boost electric bike use by enabling people who aren't ready for ownership to nevertheless get access to e-bikes–whether via long- or short-term loans, or even loan-to-buy arrangements.
"Washington Bikes and our partner organization Cascade Bicycle Club are excited to work with the state and all interested parties on how to create these e-bike lending programs," Clarke said. "Car-share programs have proven that it's not necessary for people to own motor vehicles, which can be a huge expense and hassle for many families who only occasionally need to use a motor vehicle."
"The e-bike lending programs work on the same principle. We think they will be a great solution for e-bike curious individuals or families who may want to see how an e-bike fits into their lifestyle before purchasing one, or for people who need a short-term mobility option other than a car," Clarke said.
Why E-Bikes?
Hugely popular in bike-friendly European nations, e-bikes sales are growing rapidly in the United States. E-bikes must be pedaled like regular bikes, but they provide a boost that amplifies a rider's power, making them a practical solution for replacing cars for commuting and running errands, especially in the hilly Pacific Northwest.
Supporters of the e-bike incentives in Washington state pointed to the costly and generous subsidies the state and federal government have provided to the buyers of electric cars as a precedent for passing this legislation into law.
"Electric bikes are ideal for reducing many of the short trips and in-town errands that people currently do by motor vehicle, and they provide a public health boost as well," Clarke said.
More than 45 percent of car trips in the United States are three miles or less, according to the National Household Travel Survey, while more than 20 percent are one mile or less. Many of these trips could be accomplished with an electric bike.
A survey of e-bike owners by the National Institute for Transportation and Communities shows that, once people have an electric bike, they use their cars less. Electric bike owners ride more often, and they feel safer riding the streets on an electric bike than a traditional bicycle.
The big boost for our climate that e-bikes provide: respondents said that 76 percent of their e-bike trips would have otherwise been made by car.