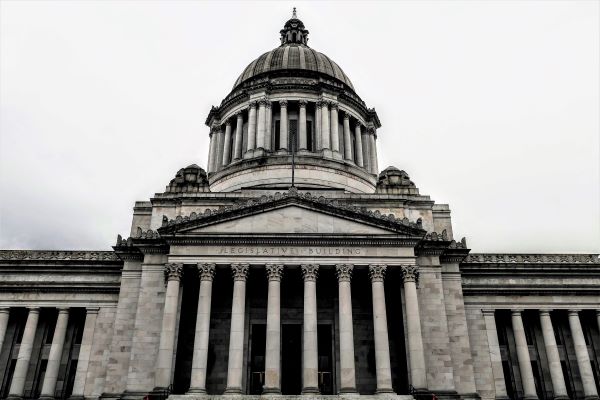 The state budget fulfilled funding commitments in last year's Move Ahead WA package–with big increases for safe streets programs, and new youth bike education programs. 
Our policy focus on addressing epidemic of traffic violence resulted in some wins, but much more work to do.
The 2023 Washington state legislative session included some big wins for bike education and infrastructure, and for boosting electric bike usage, but legislators missed an opportunity to enact comprehensive traffic safety reforms supported by Washington Bikes.
With traffic deaths and serious injuries at a 30-year high in Washington state, WA Bikes entered the 2023 legislative session with traffic safety as a top priority. Our other top goal was to ensure the legislature funded its commitments in the 2022 Move Ahead Washington transportation package.
Move Ahead Washington: Funding Promises Kept
Budget dollars for the next two years include:
More than $72 million for the Pedestrian and Bicycle Safety Program;
Approximately $73 million for the Safe Routes to School Program;
$25 million for Connecting Communities funding;
$27 million to fund the creation of the new School-Based Bike Safety Education Program.
All of the programs above invest in measures that will improve the safety of people walking and bicycling. Thanks to bike champions in the state Legislature, this budget allows the creation of more bike infrastructure. It also recognizes that teaching bike skills to our youth statewide will benefit society and public health in years to come.
"History shows that more people will use bikes for transportation if you create safe places to ride." It was great to see the Legislature allocate money for more Safe Routes to School and bike infrastructure that connects communities in ways that make it safer and easier for more people to bike and walk," said Washington Bikes Policy Director Vicky Clarke.
Another victory is the allocation of $7 million for electric bike incentives and rebates. Read more about the e-bike incentives in our previous post.
Traffic Safety Legislation: More Work in Coming Years
Unfortunately, the Legislature passed only a few of the many traffic safety bills introduced in the House and Senate. A growing number of people traveling on Washington roadways–especially people walking–are being killed or seriously injured.
Two important bills championed by Washington Bikes to reduce traffic violence were enacted. They will:
Get known bad drivers off our streets by requiring that all drivers found at fault for causing a serious injury or death have their licenses suspended until they can retake and pass the state driving test.
Require the state Department of Licensing to develop a plan for expanding driver education requirements for people aged 18 to 24. Currently, people who wait until age 18 to get their license are not required to take driver education courses, which are shown to improve the driving habits of young people–who are statistically the most dangerous drivers.
"We were heartened to see some movement on policies that make our streets safer. But we need more action. Many of the bills in our traffic safety agenda–such as restricting right turns on red near schools and busy crosswalks–did not win legislative approval," Clarke said. "We will work to win support for traffic safety measures in future years because we know that when streets are safer for all users they are a lot safer for people walking and biking."
Despite the state's failure to pass #WrongOnRed legislation, Seattle showed leadership by announcing in early May that it will ban right turns on red at downtown intersections. In the future, red-light turn restrictions will be phased in across the city.
Washington Bikes sought to restrict right turns on red across the state because crosswalks and intersections are among the most dangerous locations. While these restrictions failed in the Legislature, legislators included funding in the state budget for cities to gather data on how people walking, biking, and driving interact at intersections. This data will help inform cities on how to make intersections safer.
Climate Policy is Transportation Policy
The Legislature also passed HB1110 that requires medium and large cities to consider climate in their Comprehensive Plans, and to include strategies to reduce greenhouse gas emissions and vehicle miles traveled. Building connected bike networks and creating zoning codes that require communities to grow such that they a increasingly bikeable, walkable, and accessible to mass transit can reduce car trips and climate pollution. As rulemaking for HB1110 begins, Washington Bikes will work to ensure that bicycling for transportation remains a top priority.
In the coming months we'll be working with allies and legislative champions to identify top priorities in the 2024 session to keep moving forward on safer biking and walking.