Tomorrow, January 31, Senate and House Transportation committees will hear SB 6434 (Rolfes) and HB 2782 (Kilduff), these companion bills will update Washington's electric-assist bicycles laws.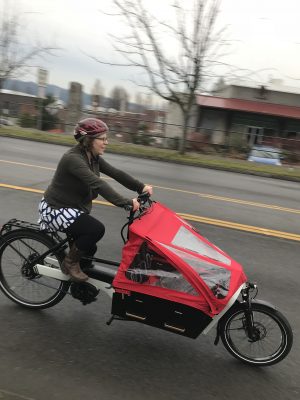 An 85-year-old with diabetes; a woman who suffered a stroke; a young family living car-free. These are the types of people who are benefiting from the growing availability and improved technology of electric-assist bicycles. Now, Washington Bikes is leading efforts in Olympia to ensure people like them will be able to use their e-bikes on trails and on-street bike lanes.
Newly introduced legislation clarifies the definition of electric-assist bicycles (e-bikes) and updates regulations to treat specific e-bikes more like traditional bicycles, allowing more types of users to enjoy the health benefits and accessibility that come with bicycling.
The e-bike industry has taken off in recent years, with e-bike sales up more than 450% since 2013, according to The NPD Group. As the e-bike industry has been fast to innovate and grow, current state law pertaining to e-bikes is outdated. SB 6434/HB 2782 will update Washington state e-bike laws to national standards and provide certainty for manufacturers, retailers, and consumers. Arkansas, California, Colorado and others have already implemented this legislative update.
This legislation will ensure e-bike users can ride their bikes in safe and connected places. E-bikes are important for older adults, family biking, people with disabilities and people who want to ride, but may feel intimidated by a traditional bike. By flattening hills and allowing for ease of pedaling, e-bikes increase accessibility to getting around by bicycle and the health benefits that come with!
What's in the legislation:
Adoption of three-class system for e-bikes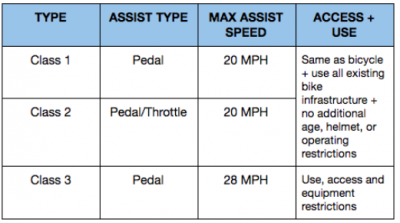 Class 1 and 2 e-bikes permitted on shared-use paths and bike lanes subject to local control. Class 3 e-bikes use on streets and paths within or adjacent to a highway subject to local and agency control.
Require labeling of classification number and top-assisted speed on all e-bikes sold after July 2018.
Do you have an e-biking story to share? We're collecting stories like yours to demonstrate how e-bikes help more people – and more types of people – integrate biking into their lives.