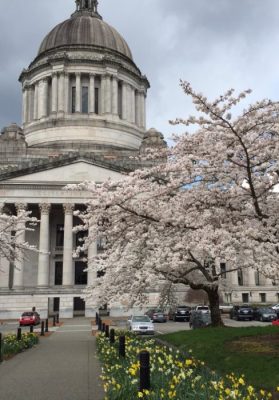 Last night the Washington state legislature passed the long awaited $4 billion budget funding capital projects throughout the state. Next step, on to the governor's desk!
The Senate and House agreed upon a bipartisan compromise budget in 2017, in an unprecedented outcome the legislature adjourned without passing the $4 billion capital budget. The final votes were held up due to conflict over another legislative matter regarding the Hirst decision and water rights. Washington Bikes is thrilled that the 2017-19 capital budget investments will come to fruition.
Specific to Washington Bikes' work and advocacy, the capital budget serves an important role in building out Washington state's bicycle trail network. The two-year capital budget includes:
$500,000 investment in the Wilburton Trestle, a key connection on the Eastside Rail Corridor. Passage of the capital budget brings the total investment in this project for the 2017-19 biennium to $3 million! $2.5 million was previously secured in the transportation budget passed in 2017.
$80 million investment in the Washington Wildlife and Recreation grant program (WWRP). Projects on the WWRP funding list include Washington Bikes' priorities: trail development, enhancing state parks, and improving outdoor recreation opportunities. This budget means an additional $13 million for Washington's trails!
The passing of the 2017-19 capital budget means more people biking and walking on trails and connections that are safe, accessible and connected throughout Washington state!
Check back soon for updates from the 2018 legislative session. Stay in touch by signing up for Washington Bikes' alerts!