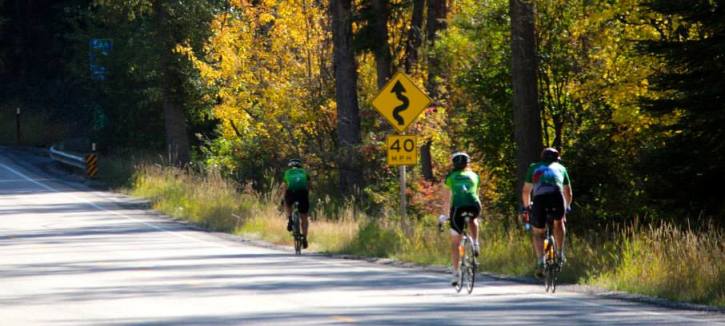 John Pope, WA Bikes board member and volunteer USBRS route coordinator, has put foot to pedal and is riding the newly designated USBR 10. His wife Michele is providing vehicle support and chronicling their cross-state adventure.
Jason and Amy Edwards of Colvelo Bike Club showed up in Republic bright and early to escort John over Sherman Pass. Jason and Amy are bright and energetic cyclists who recently completed RAMROD. They were fun to be with, cheerful and enthusiastic on the 50 mile ride over Sherman Pass, elevation 5575'.
Riding out of Republic they sampled two paved miles of the Tiger Trail, a multi-use path that connects the town to Curlew Lake. Back on SR20 John apologized to intrepid sag captain Michele for ditching her while investigating the off-road trail, making her think that she had once again lost him.
The road east to the pass rolls over a few hills and then starts a steady climb. The further east they traveled the brighter the falls colors. They had a beautiful blue day and were able to stop at viewpoints to enjoy the landscape. Jason shared the location of a roadside mineshaft noticeable only to slow-paced and alert cyclists.
The eastbound ascent of Sherman Pass was surprisingly gentle on the legs, something John was concerned about at day 5. The curves on the approach were sweeping with good sight-lines and passing lanes. The chip-seal surface was better than that of the day before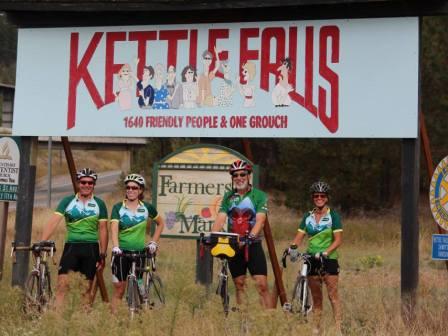 Jason and Amy are rockets going downhill. Despite a strong east wind, they reached speeds in the mid-40's down the pass and formed a paceline through the Canyon Creek area. They stopped at a great overlook along the incredibly vertical Sherman Creek canyon before arriving at the Columbia River/Lake Roosevelt bridge. After the narrow bridge crossing we met John's old friend Lynn O'Conner, president of the Colville Rotary and a key member of the ColVelo Bicycle Club.
Lynn escorted John the rest of the way into Colville down busy US395/SR20, with the same decent chip-seal shoulders but a lot more traffic. We pulled into the fairgrounds and were excited to meet the Rotary and bike club folks putting together Saturday's Blazing Saddles Bike Ride and Chili Cook-off events.
Related Reading
Want More News About Bike Travel in Washington State? Sign up for our e-news!