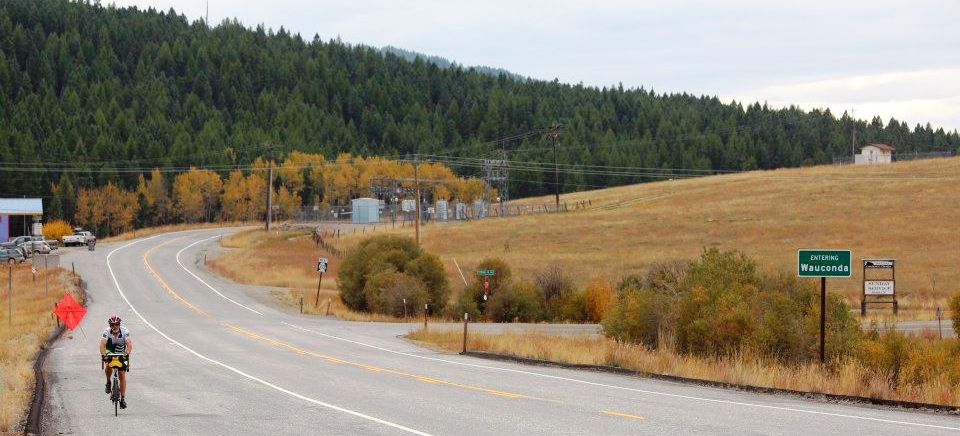 John Pope, WA Bikes board member and volunteer USBRS route coordinator, has put foot to pedal and is riding the newly designated USBR 10. His wife Michele is providing vehicle support and chronicling their cross-state adventure.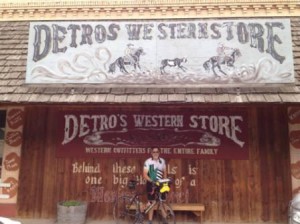 We pulled out of Okanogan with a long day ahead of us. The secondary route outside of Omak was beautiful but could use a sign! We traveled many miles along the Okanogan River through scrubland until we arrived in Riverside where we visited the Detros Western Store (jeans long enough for Michele). After outfitting ourselves in some local garb, John hopped in the saddle and pedaled toward Tonasket while I visited the local grocery/antique/curiosity shop. It had everything one could need — including a collection of pocket lint dating back to 1993.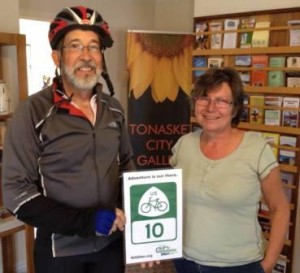 Our next community stop was Tonasket where we dropped by the Visitor's Information Center and had the pleasure of visiting with Linda Black. Linda is a whirlwind of energy and great ideas. She has developed a bike campground behind the visitor center with top end restrooms and shower. She is a huge supporter of bike tourism and USBR 10 and cyclists are invited to camp here for free. John calls her a Trail Angel.
Next came the long arduous climb away from Tonasket and the Okanogan Valley up to the Okanogan Highlands and over Wauconda Pass, elevation 4,311 feet. There is a long stretch of narrow and winding road, with little to no shoulder, and the truck traffic can feel fast and heavy. This is offset by the stark pioneer beauty of the upland prairies and a long pleasant descent to Republic.
Nestled in a valley between Wauconda and Sherman Passes, Republic is a quaint tree-lined town with history steeped in the logging and mining industries.  Bike campers can pitch their tents at no cost in the city park on the west end of town. Be sure to visit Republic Brewing Company to sample handcrafted beers, ciders and sodas. And bring your own food.
Looking forward to Friday. John will be joined by ColVelo webmaster Jason Edwards and his wife for the climb over Sherman Pass. Then we roll into Colville in time for Blazing Saddles and a second USBR 10 ribbon-cutting event on Saturday. A layover day for the weary travelers!
Related Reading
Want More News About Bike Travel in Washington State? Sign up for our e-news!