The final link in the Willapa Hills Trail's journey between two Lewis County towns is now complete! Today and tomorrow the Willapa Hills Trail Fat Tire Ride & Festival takes place as the grand celebration of the trail between Chehalis and Pe Ell.
Projects like these represent the culmination of our work to grow investments in trails to record highs. With each trail project we come a little closer to having a connected network of safe, accessible bikeways across the state.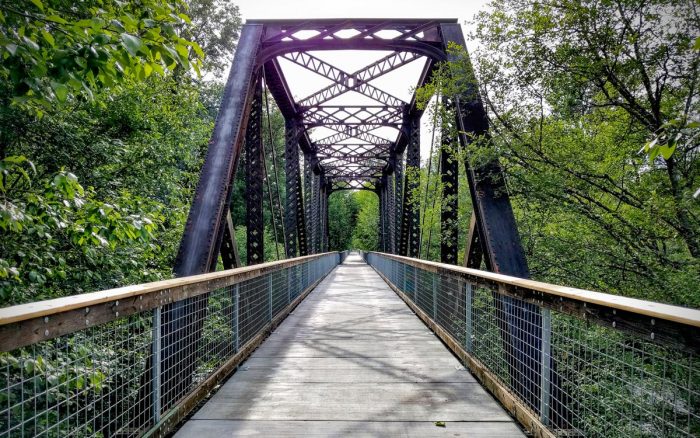 Washington State Parks staff have opened up the trail just west of Adna, where it had been closed since late 2015 due to restoration work on a 923-foot trestle known simply as Bridge #5. The previously unsurfaced bridge was the final gap in the Willapa Hills Trail between Chehalis and Pe Ell after two other bridges further west over the Chehalis River were completed last year.
The Willapa Hills Trail is a rails-to-trails project that, in all, extends 56 miles from Chehalis to South Bend in Pacific County. Five miles of the trail between Chehalis and Bridge #5 are paved, while the stretch from Bridge #5 to Pe Ell consists of ballast that is suitable for just about any bicycle tire except for thin road tires. Beyond Pe Ell, however, much work on several segments and bridges needs to be complete before full rideability of the entire trail is achieved.
The 22 miles between Chehalis and Pe Ell being fully open now means big things for west Lewis County. For one, bicyclists don't have to drive out from Chehalis or Pe Ell to a trailhead miles away to reach a point on the trail; they can ride out straight from town and head back at their own leisure, forgoing a four-wheeled vehicle trip. Secondly, the trail encounters very little cross traffic all along, and its rural scenery along the Chehalis River and several pastoral farmlands makes it a beautiful option for people wishing to enjoy a long ride on Washington's newest rail-trail — again, with the option now of originating their route from a population center.
Bikepacking is sure to be a hit with people combining the experience of bicycling with minimalist camping along the trail. And speaking of camping, Rainbow Falls State Park is a perfect spot to pitch a tent, located just off the trail in Dryad. It's first-come, first-served, so check in at the park entrance, pay the required fee and claim your spot.
The town of Pe Ell stands to benefit, as it is home to the trailhead with the most amenities — restrooms, running water, bike racks, horse trailer parking, interpretive displays and more — and several establishments such as Evey's Cafe, Kettle Creek and the Pe Ell Pub, among others. Stop into Pe Ell and say a friendly hello to the folks there!
As for the new bridge itself, contractors Tapani Inc. of Battle Ground, Washington recently put finishing touches on the upgrades, which include a concrete surface, safety railing and bridge stability improvements. The project lasted roughly six months, culminating with a final walkthrough on the last day of May.
If you want to experience the new bridge for yourself, the Adna trailhead off Dieckman Road is the best place to park (remember your Discover Pass!). Walk about a mile west and you'll be among the first to experience this beautiful crossing of the Chehalis River that trains once roared over daily a century ago.
This bit of trail news comes to us from our friends at Discover Lewis County, who invite you to visit Lewis County and ride the Willapa Hills Trail. Under development by Washington State Parks, this former rail corridor meanders 56 miles through scenic countryside from Chehalis to South Bend. You can view the original post on their site.