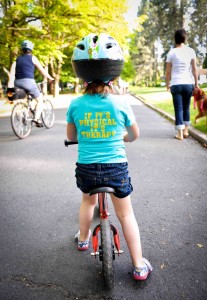 The Federal Highway Administration has once again ignored bicyclists when determining performance measures for our transportation system. We need you to speak up now.
With passage of the FAST Act signed into law December 2015, Congress just instituted a Complete Streets policy for the National Highway System (which is much more than highways; it includes main streets, arterials and other major roads). Yet despite this FHWA wants to measure performance of the system using a measure for drivers only. Their draft performance measure rules would measure congestion by measuring delay for drivers, conflating performance for all traffic with travel time reliability for motorists only. Speeding up motorists on Main Street doesn't improve performance for people biking or walking!
[Tweet "I bike on Main Street. I count. #MakeMeCount @USDOT @USDOTFHWA!"]
We need an additional measure that measures performance or reliability for those outside of cars, whose concerns are much more around measures of access, comfort and safety. We know that what we measure, matters. If governments are not directed to measure performance for non-motorized transportation, they have no incentive to invest in improvements.
[Tweet "What we measure MATTERS. @USDOTFHWA needs to count biking/walking. #MakeMeCount"]
Incentivizing states to speed up drivers may result in significant danger to people biking or walking. If these draft rules are implemented, they will hinder the ability of local governments to implement Complete Streets, build protected bike lanes, and improve transportation for all people. We need to speak up now before these rules are adopted as final.
Shouldn't federal rule-making support federal policy goals? We think so. Act now. 
(Deadline for comments is mid-August but don't wait. Spread the word; share this link on Facebook and Twitter and via email.)
Not only does the draft rule propose incentives that put drivers first, everyone else dead last, the rule also sets goals for measuring air pollutants from transportation but doesn't include greenhouse gases. Our clean transportation choices apparently don't count either.
[Tweet "My safety counts. My bike transportation counts. My life counts. #MakeMeCount @USDOTFHWA"]