John Pope, WA Bikes board member and volunteer USBRS route coordinator, has put foot to pedal and is riding the newly designated USBR 10. His wife Michele is providing vehicle support and chronicling their cross-state adventure.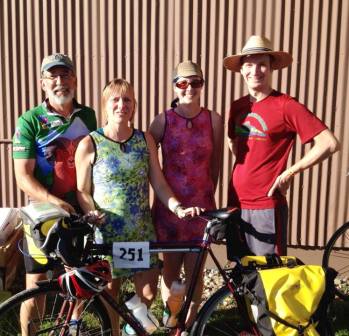 Saturday was a day of small town surprises and celebrations. We awoke to find hundreds of military veterans lined up outside of our RV for a Veterans Administration "Stand Down." They were able to obtain clothing, shoes, dental care, haircuts, food and financial advice. Some had been waiting in line since 3am for the 8am opening. A little reminder to be thankful for what we have.
This day was John's "rest day," but he had his sights set on riding the Family Ride of Blazing Saddles, followed by the USBR 10 ribbon-cutting. He was joined this day by WA Bikes executive director Barb Chamberlain, and staffers Seth Schromen-Wawrin and Kate Johnson. Fellow WA Bikes board member Marc Mims of Spokane Valley was also on hand.
The century and metric century riders started early in the morning, followed by the 40 mile and family rides, all designed to get riders back to the Stevens County Fairgrounds in time for the big Chili Cook-off competition from noon to three. Crossings and aid stations were manned by Colville Rotary Club members in bright orange. An optional hill climb was included with temporary "Feel the Burn" tattoos given to riders who made the grade.
Back at the fairgrounds, the chili cook-off was getting underway. In addition to the chili cook-off competition, there were vendors, non-profit groups, and a beer garden. The Sara Brown Band provided musical entertainment.
During the cook-off, USBR 10 briefly took center stage. Barb and John were joined on stage by local bike advocate and Colville Rotary president Lynn O'Connor and Stevens County Commissioner Don Dashiell for a ribbon-cutting ceremony for Washington's first entry in the national bike route network.
ColVelo Bike Club and Colville Rotary were thanked for putting on an incredible event. Bicycle tourism's impact on small city economics and USBR 10's ability to improve safe riding for both visiting and local cyclists was mentioned. Noting that this is the first designated US bike route in Washington, in the northwest and in the contiguous west coast states brought a cheer from the approving crowd. Barb cut the ribbon and the route was dedicated in Colville!

Related Reading
Want More News About Bike Travel in Washington State? Sign up for our e-news!