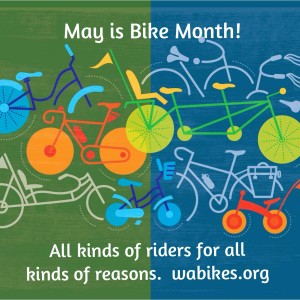 Washington bikes and May is our month! Bicyclists from Port Angeles to Pullman, and places in between will be biking to work, to school, for recreation, and more. We're all kinds of riders and we ride for all kinds of reasons, but we share something in common: our joy of bicycling!
Here's a quick round-up of Bike Month activities that we are aware of. If we're missing your community bike event, please use our Event Submission Form and we'll add it to our calendar.
Bike to Work Challenges
Washington communities large and small are organizing Bike to Work Challenges. Some challenges are a week long while others run the entire month. Cascade Bicycle Club's Commute Challenge drew over 14,000 participants in King and Snohomish Counties last year. Intercity Transit's Thurston County Bicycle Commuter Contest is the longest running bike challenge in our state, having started in 1988. Check our Bike Month Challenges page for a complete list of local Bike to Work challenges.
Washington Bike Challenge/National Bike Challenge
The League of American Bicyclists runs a summer-long National Bike Challenge and we host the challenge locally as the Washington Bike Challenge. This challenge kicks off May 1 and ends September 30. Riders earn points to qualify for monthly prize drawings. All bike riding counts, not just commute miles. When you register at the National Bike Challenge you will be assigned to our local one.
Bike Month Celebration Open House – May 1
Join Washington Bikes as we toast Bike Month with beer, art and travel! Bike travel author Ellee Thalheimer will be on hand to sign copies of Cycling Sojourner Washington (hot off the press!). We're featuring artwork from the 5th Grade Bicycle Poster Contest and Andy Goulding, and we're tapping the first keg of this year's release of Ale-Liance IPA by Schooner Exact. Learn more and RSVP.
Bike to School Day: May 7
May is Bike to School month and May 7 is Bike to School Day. Join students, parents and teachers in bringing a Bike to School Day event to your elementary, middle or high school. You can register your school event at WalkBiketoSchool.org.
CycloFemme: May 11
CycloFemme is a global celebration of women on bikes. The first event occurred on Mother's Day 2012 with 163 rides in 14 countries. In 2013, the event grew to 229 rides in 31 countries. This year's CycloFemme event is again on Mother's Day and, at this posting, CycleFemme rides are being organized in five Washington communities: Eastsound, Seattle, Redmond, Spokane and Tacoma. Check our CycloFemme calendar listing for more details.
Bike to Work Day: May 16
Many of our communities organize Bike to Work Day activities. Please consult our Bike Month Challenge page, as most of those participating groups also organize Bike to Work Day events.
Ride of Silence
The Ride of Silence honors bicyclists who have been injured or killed on public roads. Rides are held in communities around the world. At posting time, rides are scheduled for Seattle and Spokane.
There are many more Bike Month activities than we can list here, like the Tacoma Wheelmen's Tweed Ride or Bellingham's Adaptive Cycling Expo. Follow your community link on our Bike Month Challenges page to find out what's happening in your town. You can also find additional bike events listed on our May calendar.