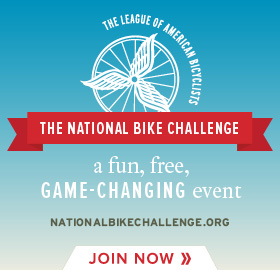 May is Bike Month and we hope you're actively participating in your local bike challenge. We want to invite you to double the value of your May bike trips by signing up for the National Bike Challenge too.
Organized by the League of American Bicyclists and hosted locally by Washington Bikes, the National Bike Challenge is a fun, free, summer-long (May through September) event that allows participants to track all bike miles (transportation and recreation) to qualify for monthly prize drawings. Washington residents who join the National Bike Challenge will be assigned to Washington Bikes challenge page as their local host.*
Register your workplace, invite your co-workers to join, and you can track your progress as a unit. This is especially handy if you do not have a local commute challenge in your community. You can also create teams for your workplace. If you are participating in a local Bike Month challenge, signing up for the National Bike Challenge is a way to keep your challenge going beyond the month of May.
Retired, between jobs, work at home, a student, or transit commuter? No problem! You can participate in the National Bike Challenge too. Track your errand miles, your rides with your kids, your recreational rides, training miles, and even your mountain bike miles.
If you ride with a bike club, rally your fellow members and form a team! The Wheatland Wheelers of Walla Walla have done this for several years. Or feel free to ride with the Washington Bikes staff as We Bike WA.
You earn points based on how often you ride (20 points for each day you get on the bike!) and how far (one point per mile). As you accumulate points, you become eligible for different prize levels.
The National Bike Challenge will hold prize drawings monthly. In addition to the national prizes, Washington Bikes will also conduct a monthly drawing for participants riding with us! Thanks to Detours, one lucky rider each month will win a Detours Coffee Bag. This versatile dry bag is a tribute to the Evergreen State's favorite brewed beverage and can be secured almost anywhere on your bike. It even fits in your water bottle cage! We'll give away other assorted prizes as well.
So what are you waiting for? Join us in the National Bike Challenge today!
*Participants from the Tri-Cities will be assigned to the 3 Rivers Bicycle Coalition's Bike Month Challenge.
Related Post:
May is Bike Month and It's Huge!