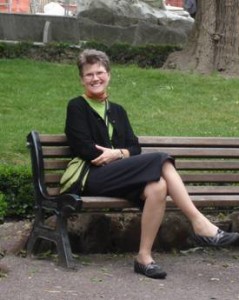 Barb Culp may have retired as the executive director of Washington Bikes, but she has remained active in the bicycle movement. Earlier this month she was honored at the National Bike Summit when the Alliance for Biking and Walking presented her with a Lifetime Achievement Award.
In a blog post about their 2013 Advocacy Awards, the Alliance noted:
Washington State has been ranked the best state for biking by the League of American Bicyclists for the past 5 years, and this is due in no small part to the influence and leadership of Barbara Culp. Barb has been a leader in biking advocacy for decades. She has been the executive director of Washington Bikes twice, for a combined 13 years, as well as previously working for Cascade Bicycle Club as their education director and promoting bicycling and walking as head of commuter solutions at Seattle Children's Hospital. Her leadership has led to increased bicycle infrastructure in Washington, better education for all users of the road, and increased communication between bicycle advocates and Washington DOT.
"This award comes as a complete surprise to me. I am thrilled and pleased to be recognized by my peers at the national level," remarked Barb, who also served on the board of directors for the Alliance and was the vice-chair for part of her tenure.
Barb is not resting on her laurels and continues to support growing biking in our state.  This summer, she and husband Andy Goulding will help Bicycle Alliance board member John Pope ground truth portions of the future US Bicycle Route 10 in north central and northeastern Washington. Learn more about our USBRS work in Washington on our website.
You can read about all the 2013 Advocacy Award winners here.