Guest blogger Brian Woods attended the 2015 Washington Bike Summit.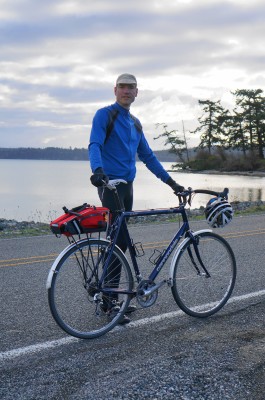 I am a student in the Master of Sustainable Transportation Program at the University of Washington and I am writing to recommend the Washington Bike Summit to any other students out there who are studying transportation or urban planning, or who may simply be interested in how business, policy, advocacy and infrastructure can converge on a single theme—the bicycle. And though the bicycle is at the heart of the Summit, the reality is that it is at the hub of a larger context in which community members, business owners, lawmakers, planners and engineers are thinking about a brighter future that focuses on the kinds of safe, livable communities where we all want to live, whether we walk, bike, drive or use transit.
As a student of transportation, I felt particularly connected with the engineering discussions regarding how our infrastructure is evolving in ways that recognize the importance of protecting vulnerable transportation users. I noted that many of the most innovative ideas that I have been exposed to in my university studies are being planned for and even put into practice across Washington State.
The discussions had both a state and an urban focus. Importantly, viable solutions were considered that spent money wisely, but still targeted research-based best practices. Equity was also stressed with regard to community development decisions, such that money doesn't simply flow to the loudest advocates, rather community improvements are targeted to where they are needed most.
Many of the presentations stressed the importance of a broad-based discussion with businesses, residents and transportation professionals. Such a conversation can serve to both educate community members, as well as to listen to them so that the final solutions stand a much better chance of being the right solutions.
As a cyclist, I can say that I observed how Washington Bikes is representing my interests with a strong, steady message that does not end up alienating the community and lawmakers that we need on our side in order to make cycling a well-respected form of transportation and recreation. As a student I found that Washington Bikes is also capable of putting together a valuable conference experience where I could further my education and establish contact with many of the professionals who can help me take the next step after college.
I would like to thank our Washington Bikes representatives for all the hard work that went into this years summit, and to let everyone else know that they need to sign up early for the next one, because the summit sold out fast!
Brian's Thoughts as the 2015 Washington Bike Summit Wrapped Up