In May, Washington Bikes participated in a month-long fundraising campaign organized by Adventure Cycling Association for the US Bicycle Route System (see this post).  The campaign raised over $31,000 nationally and we raised close to $1000 of that.  Thanks again to all of you who made a contribution!
For those not familiar with the USBRS, picture an interstate travel system designed with bikes in mind.  These routes will be officially recognized, mapped and signed.  Using the road less traveled, it will connect communities, parks, landmarks and other popular destinations while traveling through some of the best scenery America has to offer.  Adventure Cycling is leading this ambitious effort nationally and the WA Bikes has stepped up to partner with Washington State DOT and lead the effort in our state.
Now we're rolling up our sleeves and getting down to business.  As the lead partner in the USBRS effort in Washington State, we're hitting the road to meet with elected officials, transportation staff, and community advocates along the northern tier corridor that will someday become US Bicycle Route 10.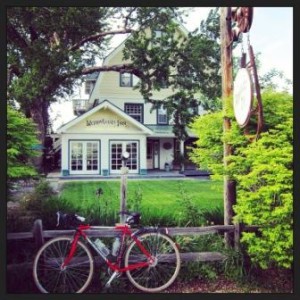 Ian Macek, WSDOT's Bicycle Pedestrian Coordinator, will join us as we hold outreach meetings along the corridor to begin the planning and implementation of USBR 10.  We're holding our first meeting this week at the Methow Valley Inn in Twisp.  The Methow Valley offers some great biking and folks over there know the economic benefit of bicycle tourism.
If you live along the USBR 10 corridor and would like to help champion the project in your community, please email me at louisemc@wabikes.org.  We'd especially like to hear from if you live in the eastern half of the state.