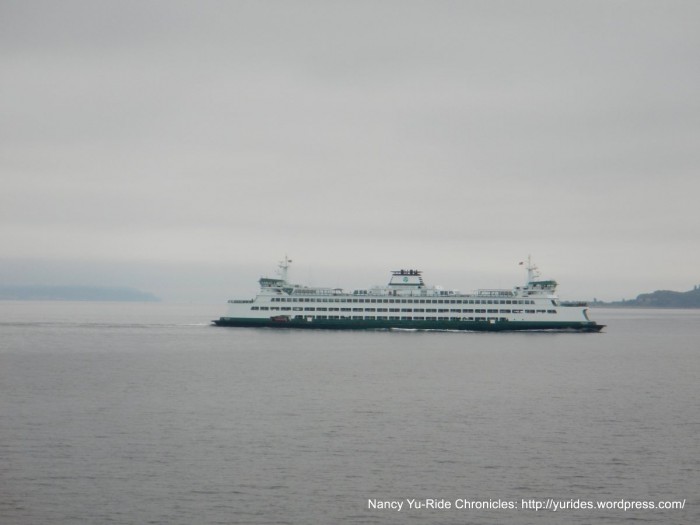 We're getting on the ferry again for a bike ride around Bainbridge Island. The fare  to Bainbridge Island is $7.70 (other discounts may apply if eligible) plus a $1.00 bicycle surcharge. Arrive 15-20 minutes before departure time to be loaded prior to the vehicle loading process. There are no bike racks; they can be hooked on or strapped to the yellow side railings of the boat. The ferry crossing is a scenic 35 minute cruise from Seattle's waterfront.
Downtown Bainbridge Island looks like it was recently revamped with new sidewalks and hanging baskets of colorful flowers. The area is very walkable being only a block away from the ferry terminal on Winslow Way E. You can window shop through the galleries and boutiques and when you need a break, stop at one of the many cafes, restaurants and bakeries for a bite to eat. It's also a progressive community with a new urban One Planet neighborhood; Grow Community. It's an attractive way of living while using fewer of earth's resources; zero carbon and waste, sustainable transport and local and sustainable food and water-very impressive and stylish too!
We exit the downtown area to Eagle Harbor Dr NE, this road runs along the shoreline of Eagle Harbor and through the wooded neighborhoods out to Rockaway Beach Rd NE. The road becomes NE Halls Hill Rd as it steeply curves around Blakely Harbor to Blakely Hill Rd and Blakely Ave.
The turn on NE Country Club Rd takes us pass the large estate homes nestled in the woods with fabulous waterfront views. We continue south on Toe Jam Hill NE for the 0.7 mile 7-10% climb followed by a fast drop down to NE South Beach Rd.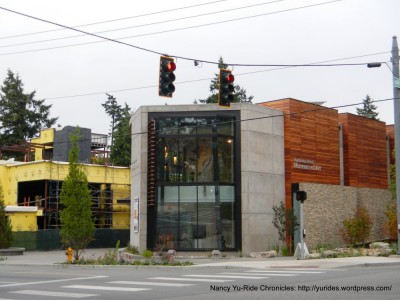 NE South Beach Rd hugs the shoreline with huge waterfront homes overlooking Puget Sound-the views are spectacular!  This is where we spot a young bald eagle perched out on the old wooden pier. We spoke with a resident and were told that the eagle is a "regular" on this side of the island, he's out on the pier every morning-WOW!
NE South Beach Rd continues behind the waterfront homes and comes to an end at the neighborhood traffic circle. The non-vehicular path at the opposite end leads straight into the forest and through Fort Ward Park.
The north end of the path opens onto Pleasant Beach Dr NE with large waterfront estate homes hidden amongst the deep green forests. The road continues into the neighborhood center at Lynwood; this small Tudor-style shopping center has a theatre, a few shops and a market.
We exit Lynwood on Point White Dr NE to the SW tip of the island through the Crystal Springs neighborhood around Point White Dock. It's a cute area of shoreline with beached wooden boats, fantastic waterfront views, rocky beaches and many Adirondack style chairs just waiting to be used to enjoy the most likely gorgeous sunsets!
The climbs on NE Baker Hill Rd lead inland back towards Lynwood to Lynwwod Center Rd NE. We continue through the woods along Fletcher Bay Rd NE and Miller Rd NE. This part of the island has numerous homes for sale; side by side and across the street!
Battle Point Dr NE takes us pass Battle Point Park; it's a huge open space park with many different activity areas; from soccer and softball fields to tennis courts and a playground and much, much more!
Arrow Point Rd NE cuts through the dense woods up Miller Rd NE, NE Bergman Rd and Manzanita Rd NE to Manzanita Bay. The shores of this bay has an abundant amount of blackberry bushes with ripe juicy blackberries just waiting to be picked and eaten-and that's exactly what I did; JUICY, WARM and DELICIOUS!
The next few turns takes up to the NE point of the island on NE Lafayete Ave, pass the Kane Cemetery towards Fay Bainbridge State Park on Sunrise Dr NE. Manitou Beach Rd NE is another shoreline road with gorgeous views of Murden Cove; it leads us up towards Ferncliff Ave NE and Grand Ave NE along the vibrant greens of Wing Point Golf Course. From here we drop down on Ferncliff Ave NE to Winslow Way E back to the ferry terminal.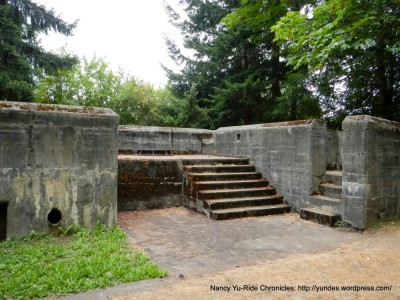 Bainbridge Island is a beautiful city with affluent homes and communities and yet still maintains a quaint small town feel. The island has quite a few shoreline parks that overlook the gorgeous Puget Sound and the surrounding mountains. If you love rolling hill climbs around miles and miles of quiet country roads with minimal to no traffic, this is the place to go-the road conditions are great too! Come and enjoy this fantastic island community!
Garmin Stats:
43.30 Miles with 3232′ of elevation gain (includes mileage from out and back on the Eliott Bay Trail)
Max elevation: 371′
Max grade: 12%
Terrain: Rolling climbs-Hilly
Guest blogger Nancy Yu writes about her bike travels at Ride Chronicles. She says, "I loved cycling around Washington. It's a beautiful state with a wonderful network of trails and bike-friendly people. I ride to explore and love sharing my findings! I hope the write-ups and pictures will inspire those who can to get out there and enjoy the natural beauty of all that is available to us."