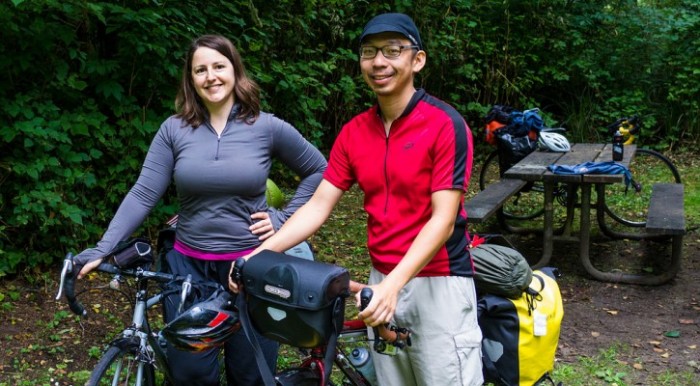 State parks can make great bike camping destinations and, with over 140 Washington State Parks, you're bound to find a suitable destination near you. Today's post first ran on Adventure Awaits, the official blog for Washington State Parks.
The Adventure
Beach cruiser or BMX, recumbent or mountain bike—few transportation modes bring you closer to the road than the humble bicycle. The whir of wheels on the road or trail, the wind in your hair, the exhilaration of pumping hard up long inclines and whizzing down hills… It's great exercise and an intimate way to enjoy the open road and country.
It's also a great way to camp! If you love cycling and have yet to try a two-wheel vacation now is the time! With fall weather in the forecast, it's a great time to get out on the road while the weather is still mostly cooperative and the cooler temperatures make for a more pleasant ride. Ranked number one most bike-friendly state in the nation 8 years running, Washington is the perfect place to enjoy a long ride. And with lots of open bicycle camping spots, your state parks make great destinations to ride to.
Need some pointers and tips for planning your epic riding vacation? Read on…
The Basics
Plan out your route…
Like all camping, a big part of the fun is deciding where you are going to go. But bike camping requires a bit more planning than the average expedition by car. First, you must have a good sense of your abilities: How far will be able to ride each day? If you're not doing a loop trip,  how you will get back? Then it's a matter of plotting out a route that's just right for you!
Do a little research to map out a journey compatible with your abilities and with motor traffic. Will you be taking a quick weekend ride to stay overnight in one park? Are you heading out on a week- (or weeks) long odyssey? Choosing stops with regular and reasonable daily distances will give you a goal and save you the frustration of trying to locate a place to stay when you're exhausted. Choose several Washington State Parks all within a regular distance of one another — for example, Larrabee, Bay View and Deception Pass for an exhilarating ride on Chuckanut Drive and gorgeous overnight accommodations!
Most Washington State Parks have available campsites known as either "primitive" or  "hiker/biker." More often than not these are not reservable and only available on a first-come, first-served basis. However, since fewer folks choose pedaling over driving, these sites are often available–and at the bargain price of just $12 a night!
Gather your gear
On a bike trip every pound counts. Packing just enough and not too much is an art. What you need will depend on the terrain and the weather. But anywhere you head you will need some essentials. A good tent is a must, along with cooking, first aid and a few minimalist toiletry items. Many bike touring websites will offer handy lists of gear essentials you will need. Travel tip: if you make your journey with a friend it's not only safer and more fun, but you can share the gear load for a lighter ride.
Of course, this is the Northwest. One absolute essential, especially if you plan to ride in Western Washington, is good rain gear. Make sure you not only have a way to keep yourself dry, but your gear and spare clothing as well!
Like any vehicle, your bike is going to need some TLC before a long trip. Have it tuned up before you set out on the road. Also, always carry tools and a patch kit. For carrying your gear, there are two schools of thought: some people prefer to use panniers, which are simply racks that attach to your rear axle and hold cargo, much like saddlebags on a horse do. Others like to use a trailer, either custom-made or the type that are sometimes used to haul children. For a discussion on the pros and cons of each method, read here.
 Trip Planner
Ready to roll? Here's some great destinations…
Beacon Rock State Park
Well-known as a rock climbing destination, Beacon Rock State Park  also has 20 miles of trails to please cyclists at a variety of abilities. Remember, you'll be sharing the trail  with horses! Be sure you are well-versed in the nuances of trail etiquette and how to yield. Make an epic trip of it and stay the night in this stunning park on the banks of the Columbia River.
Columbia Plateau Trail State Park
With 48 miles of biking-ready trails and multiple trail heads, Columbia Plateau Trail State Park  is one of Washington's "it" spots for a major bike trip. Built along the converted bed of the old Spokane, Portland and Seattle rail lines, the trail winds through amazing historic country.
Spokane Centennial Trail State Park
Centennial Trail State Park may be 37 miles long but is flat and paved, making it an easier ride for shorter legs to manage. This is a day use but you can stay the night at nearby Riverside State Park and explore the trail by day.
Grayland Beach State Park
Take along the bikes to this ocean-side state park! While year-round camping near the Pacific Ocean is the primary draw at this 412-acre park, the looping trail through the campsites offers a kid-friendly activity between jaunts out to the beach. Nearby is the lovely and easy-to-ride Dune Trail, starting at the Westport Light State  parking lot and continuing all the way to Westhaven State Park. A great day destination, the trail offers stunning views along the way as you roll into Westport for a lunch or dinner out.
Moran State Park
Sweeping roads wind you through the denser trees and across the treasured land that is the San Juan Islands. Moran is a state parks gem and extremely popular destination with lots of camping available especially for hikers and cyclists. With 11 miles of biking trails and incredible views, this is a must for the cycle enthusiast's bucket list!
Wenatchee Confluence State Park
Wenatchee Confluence State Park is a family adventure hotspot. Green lawns for tag. Ball fields for basketball, baseball, volleyball and soccer. A fantastic playground for toddlers and grade school children. You name it, Wenatchee Confluence has your family covered. And biking is no exception. The park connects to the Apple Capital Recreation Loop Trail – perfect for family rides. Hop on the Wenatchee-side of the trail for paved biking adventures. The east-side is fun, too, but is more suited for more experienced riders. Adding to the fun is the Rocky Reach Trail, which just opened up at the end of June this year! This five-mile trail connects you to Lincoln Rock State Park!
Iron Horse State Park
Iron Horse State Park  is an ultimate biking destination for families with teens. It's home to the John Wayne Pioneer Trail, a 100-mile-trail that stretches from North Bend to Vantage. Wide tires are a plus on this trail. It's mostly a two- to three-percent grade gravel surface. The trail winds through old Chicago-Milwaukee-St.Paul-Pacific Railroad tunnels and trestles –you'll need a lantern or flashlight to explore these tunnels. The trail also has a few campsites along the way for multi-day bike rides. Plan ahead and mark these campground mileposts on your map: Milepost 2109.5 at Roaring Creek, milepost 2113.2 at Cold Creek, milepost 2123.2 at Carter Creek and milepost 2127.1 at Alice Creek. You will need to sign a waiver to travel through tunnels 46 and 47 near Thorp. Find more information here.
Photos courtesy of: MileStoneRides.com (Feature photo, Twin Harbors), Mike Juvrud (Cyclists on the road), Bjorn (Moran bike)