Today's post comes to us from Emily Hanning, Senior Sustainability Manager for Outerwall in Bellevue. They're the company behind the brands Redbox and Coinstar. This post originally appeared on the company's blog.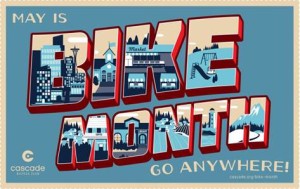 In May we celebrated National Bike Month by challenging our employees to reduce their carbon footprint, improve wellness, and – new this year – give back to cycling-related nonprofits. The challenge is our call to action for everyone on the Outerwall team. It's a call to get fit, be eco-conscious and give back.
Thanks to the suggestion of our senior hardware engineer, Paul Graham, who is an avid cyclist, we tested a new approach to bike to work month this year. Based on the success of our Season of Sharing walkathon, where we made a donation to GlobalGiving for each employee who had volunteered and walked at least 3,000 steps per day that month, Paul suggested we make donations for the miles commuted by bike.
The idea quickly caught on! In our Bellevue office, employees formed teams based on the non-profit organization they wanted to support. And for the first time ever, employees in our Pasco customer service center joined in as well.
Mile for Mile Matching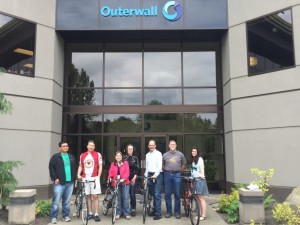 We donated $1.00 for every mile commuted by bike in May to cycling related nonprofit organizations selected by our employees. The donation opportunity proved to be an added incentive for participants.
"I would have done bike to work month anyway this year, but I am over the top about the nonprofit donations.  It motivates me and makes me get on my bike when I really don't want to (like every morning when the alarm goes off at 4 AM)!"  – Denise Driscoll, talent management coordinator, Outerwall
Bike Works builds sustainable communities by educating youth and promoting bicycling. Since 1996 they've worked to educate and empower youth, and make bicycling accessible and affordable to the Seattle community.
Washington Bikes is a statewide organization that represents cyclists and works to make sure that they have convenient, safe and accessible places to bike ride.
World Bicycle Relief is a Chicago-based nonprofit that provides specially-designed, locally assembled bicycles to entrepreneurs, healthcare workers and students across rural Africa through sustainable work-to-own and study-to-own programs.
3 Rivers Bicycle Coalition is a bicycling advocacy and resource organization that promotes an improved quality of life in and around the Washington tri-cities area.
Are you leaning toward switching from the gas pedal to the bike pedal? If so, then keep reading.
Benefits of Cycling to Work
Whether you prefer to cycle solo or in a group, cycling to work is a fun way to start the day, no matter your fitness level. If you want to make a difference in your physical health, while also helping the environment, then cycling to work may be a great way to do so.
According to The League of American Bicyclists, bike commuting has grown an average of 47 percent between 2000 and 2011 across the U.S. And with nearly 50 percent of all auto trips in metropolitan areas at a distance of 3 miles or less and 28 percent at one mile or less – it is easier than ever to make trips by bike.
Here are a few reasons to join the trend:
1.   Health
Cycling is good for your health. Did you know that the average person may lose 13 pounds within the first year of cycling to work? Cycling is also good for your wallet. According to the Journal of Physical Activity and Health, thirty minutes of cycling a day can lead to $544 in health savings a year for an individual.
Additionally, through cycling, you can have a stronger heart, while also reducing your cardiovascular disease risks.
2.   Environment
If you live and work in a bike-friendly location, then making the bike to work commitment can lead to a lower reliance on vehicles and an overall improvement in air quality over time.
Did you know that driving a 10-mile roundtrip commute during a 5-day work week in a small, 35-mile per gallon car will consume 68 gallons of gasoline and emit 0.7 tons of carbon dioxide? You can reduce your environmental impact by choosing to bike to work, while also reducing vehicle expenses.
3.  Cost savings
It's a lot cheaper to ride a bike to work than to drive a vehicle to work. Consider this:
"If American drivers were to make just one four-mile round trip each week with a bicycle instead of a car, they would save nearly 2 billion gallons of gas. At $4 per gallon, total savings would be $7.3 billion a year." Sierra Club
What's the annual cost of maintaining a bicycle? The cost is an affordable $308. The average operating cost of a car: $8,220.
Join the bike challenge
If you want to start your own bike to work challenge, visit the website National Bike Challenge to learn more.
Many thanks to our dedicated employees for joining us in our bike to work challenge! Keep pedaling!