Flagship event ride hosted 150% as many riders in 2014 as in 2013
Today's post comes to us from Stephanie Randolph, Promotions Director for Capital Bicycling Club. The club organizes the Two County Double Metric ride and donates a portion of the ride's proceeds to Washington Bikes.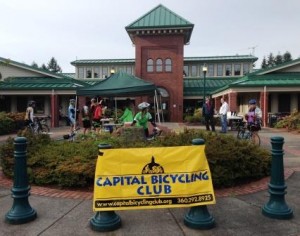 371 riders from across Washington and British Columbia converged on Tumwater City Hall on Sunday, June 22 to participate in the 32nd annual Two County Double Metric hosted by the Capital Bicycling Club. When asked their impression of the ride, most riders repeated one word. Wonderful. Wonderful weather, wonderful ride, and especially wonderful volunteers.
Cyclists highly praised the volunteer crew along the route. 56 individuals, including three kids, made the event a success. Volunteers welcomed and registered riders, served fresh fruit, sandwiches and burritos at rest stops, drove the course to provide SAG support, and offered mechanical repairs throughout the ride. Several volunteers did double duty, working before, during, and after the event, from 5:30 a.m. to 8:00 p.m.
According to CBC president Bill Stevenson, "This was a perfect day for cycling in western Washington. Everyone I've spoken with had a great time, and loved the beautiful, rarely cycled roads. Riders really liked the fresh food served at rest stops. Kudos to ride organizer Anita O. for another great job in what she swears is her last year in the role."
Past president Blaine Wheeler said, "It was wonderful the weather cooperated. In my experience, Lewis and Thurston County have some of the nicest bicycling roads in Western Washington. The roads are wide and well-maintained. The little traffic there is, drivers are polite. And it's really scenic. Thanks to all the organizers' and volunteers' work, everyone had a good ride."
The CBC's second event ride this year, Ride the South Sound, is being replaced with a smaller-scale fundraising ride. Visit the club website for more information in August. The club is planning to offer more activities for the 2015 Two County ride and is seeking a new event coordinator from its membership rolls.
The nonprofit Capital Bicycling Club has been a mainstay of the cycling community in the South Puget Sound region for over thirty years. A 100% volunteer-run organization, we support all aspects of cycling, from recreational to commuting. CBC advocates real change in our community to benefit cyclists of all types.
In addition to weekly cycling activities year-round, the club hosts at least one major event ride per year and supports the annual Intercity Transit's Bicycle Commuter Contest, the Thurston County Bicycle Map, and more. Rider registration fees for CBC events help support these and other activities, including Washington Bikes, the International Mountain Bike Association, League of American Bicyclists and the Thurston County Food Bank.
If you'd like more information about the Two County or CBC, or to schedule an interview with Bill Stevenson or Blaine Wheeler, please contact Stefanie Randolph at 360.464.5300 or stefrrandolph@yahoo.com.
Consult our Rides Calendar for additional upcoming rides that support Washington Bikes.