We're riding into town for Blazing Saddles and a celebration of USBR 10!
WA Bikes Executive Director Barb Chamberlain and WA Bikes board member/USBRS route coordinator John Pope will participate in Blazing Saddles and be on hand for a brief celebratory presentation for USBR 10.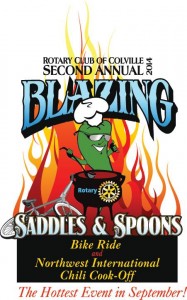 We  saved the best ride in the Pacific Northwest, Blazing Saddles, for September 20, 2014 (when things really heat up around here!), and if the ride itself isn't hot enough for you the chili cook-off at the finish line will be!
Sponsored by the Rotary Club of Colville, Blazing Saddles is a fully supported ride with rest and food stops as well as mechanical and medical sweeps throughout the course.
All route options begin by taking you down scenic Colville Valley roads with longer routes winding through outlying areas. Should you choose the century option you will head north along Lake Roosevelt, cross the river near the Canadian border, then head south on rolling terrain through forest and ranches, finishing with a fun descent back into Colville. Shorter routes have similar scenery and there are plenty of options to shorten or lengthen your particular ride.
All routes finish at Blazing Ladles, the Chili Cook-off, at the NE Washington Fairgrounds in Colville. Each registrant receives a commemorative long sleeve T-shirt and a numbered rider wristband which also provides admission to the cook-off. Friends and family are encouraged to come cheer you at the finish line where additional meal tickets can be purchased.