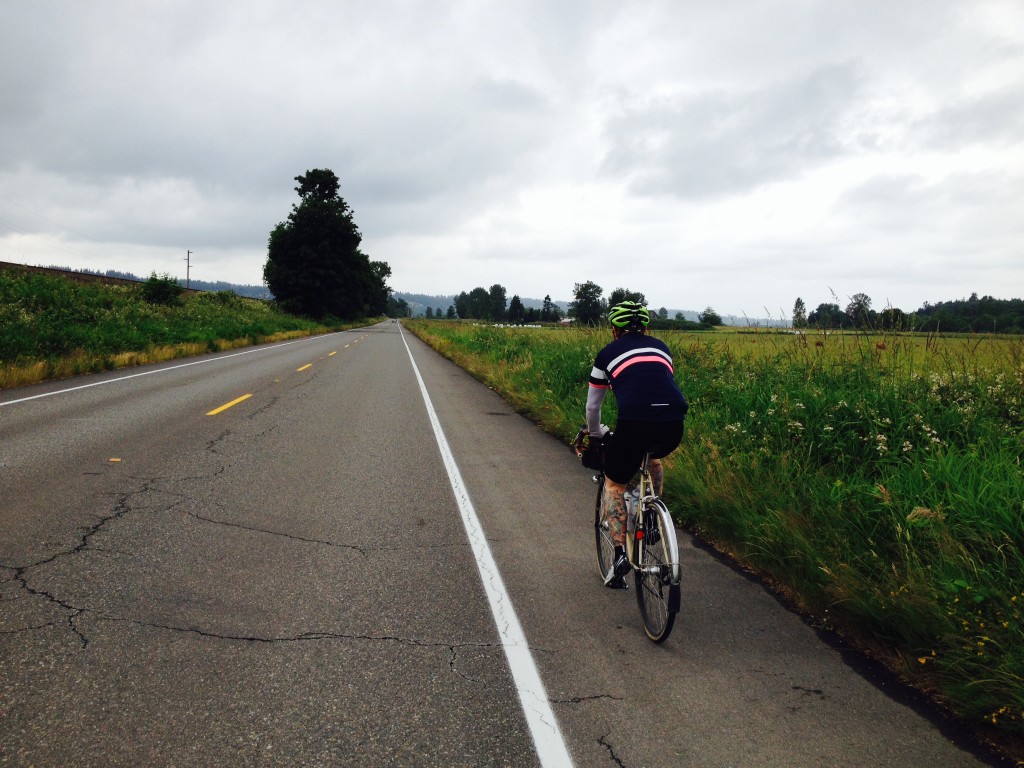 Snohomish County Bikes: an ongoing series highlighting great Snohomish County bike rides. Share your own great ride with us here!
Location: South Snohomish County [Approximate Route Map]
Distance: 52 Miles
Elevation gain: 2,000 Feet
Good for: Intermediate road riding
Highlights: quiet roads with low traffic, good scenery, mostly flat
Snohomish County is home to over 1,500 working farms. And though the county lines encompass everything from the shores of Puget Sound to remote mountain wilderness, farmland is a dominating feature of the landscape and, as such, the dominating scenery of about any good road ride in the area.
The 52-mile Everett-Lake Roesiger Loop captures a lot of what's great about country riding: the bucolic scenery of pastures, barns, and farm animals (Snohomish has a surprising number of donkeys, for the record); quiet roads with low traffic; and relatively little climbing. It is a delightful way to spend a weekend morning.
We started and ended our ride at Rotary Park on the Snohomish River. It has ample parking and cuts out the city riding for those coming from outside of Everett. Our group of four set out on Lowell Snohomish River Road under gray, Juneuary skies. These are popular stomping grounds for local cyclists. We saw at least eight other riders in the five-mile stretch between Rotary Park and downtown Snohomish.
The parade of road cyclists continued as we passed several groups of riders on the long stretch of country road between Snohomish and Monroe. And for good reason. The shoulders aren't very wide, but traffic is light on Old Snohomish–Monroe Road.
As we passed through Monroe, we took a turn onto Woods Creek Road for the first of three times on the loop. It was the only unpleasant section of the whole route. The shoulder is fairly narrow and traffic was heavy, even on a Saturday morning.
Luckily you leave Woods Creek after just a mile and a half and return to a quiet country lane with farms on either side. In a scene fit for a cycling film, a horse trotted over to the fence, then ran alongside us for a moment, curious about these colorful creatures pedaling past.
Unsurprisingly, the day's climbing really begins on Bollenbaugh Hill Rd. But fear not, the climbing is broken into lots of short, punchy hills rather than one sustained climb and you gain just 700 vertical feet over the next 9 miles. It's not to say you won't feel the hills in your legs, but no herculean effort is required.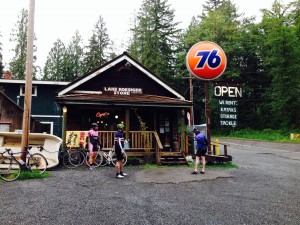 Lake Roesiger marks the halfway point of the ride. The road climbs above the water, offering nice views of the lake to the left and forest to the right. The Lake Roesiger Store sits conveniently on the north end of the lake at about mile 28. The sign outside encourages passers-by to "stop and support your local business." We obliged and took a break to refill water bottles, have a snack, and pet the golden retriever lounging on the front porch.
Leaving the store, we made our final push to the high point of the ride then reaped the rewards of our climbing with some fast, swooping descents towards the tiny town of Machias. There may have been a few rolling hills in the mix, but all I can remember is the weightless joy of flying downhill.
In Machias, we connected with the Centennial Trail. Flat, nicely paved, and relatively empty thanks to the threat of rain, the trail made for a relaxing couple of miles back to the town of Snohomish. As we rolled down First Avenue for the second time that day, we decided to make the almost-obligatory stop at Snohomish Bakery Creations for pastries and coffee. After all, what's the point of a nice ride if you don't immediately negate the calories burned with a flakey, buttery chocolate croissant?
With hot coffee and delicious pastries now weighing us down, we hopped back on our bikes for the final five miles back to Rotary Park. In true-to-the-region fashion, the sun broke through the clouds just as we pulled into the park.
| | | |
| --- | --- | --- |
| Total Mileage | Cue | Segment Distance (Miles) |
| 0 | East on Lowel Snohomish Rd | 5.5 |
| 5.5 | LEFT Airport Way | 0.2 |
| 5.7 | RIGHT 1st Ave | 0.6 |
| 6.3 | RIGHT Lincoln Ave | 8.4 |
| | Becomes SnoHo-Monroe Rd | |
| | Becomes Main Street | |
| 14.7 | LEFT Oaks St | 0.2 |
| 14.9 | RIGHT Woods Creek Rd | 1.4 |
| 16.3 | RIGHT Yeager Rd | 1.8 |
| 18.1 | RIGHT Woods Creek Rd | 0.1 |
| 18.2 | RIGHT Bollenbaugh Hill Rd | 2.6 |
| 20.8 | RIGHT Woods Creek Rd | 5.1 |
| 25.9 | RIGHT S. Lake Roesiger Rd | 4.6 |
| 30.5 | LEFT Carpenter Rd | 0.5 |
| 31 | SLIGHT LEFT stay on Carpenter | 7.8 |
| | Becomes OK Mill Rd | |
| 38.8 | LEFT Machias Rd | 0.6 |
| 39.4 | RIGHT Division St | 0.1 |
| 39.5 | LEFT Centennial Trail | 5.7 |
| 45.2 | RIGHT 1st Ave | 0.4 |
| 45.6 | LEFT Airport Way | 0.1 |
| 45.7 | RIGHT Lowel Snohomish Rd | 5.6 |
| 51.3 | END Rotary Park | |
Josh Cohen is a freelance writer, editor of The Bicycle Story and a contributing author to the newly released Cycling Sojourner: a Guide to the Best Multi-Day Tours in Washington.
Sign Up to Receive Updates on Biking in Snohomish County