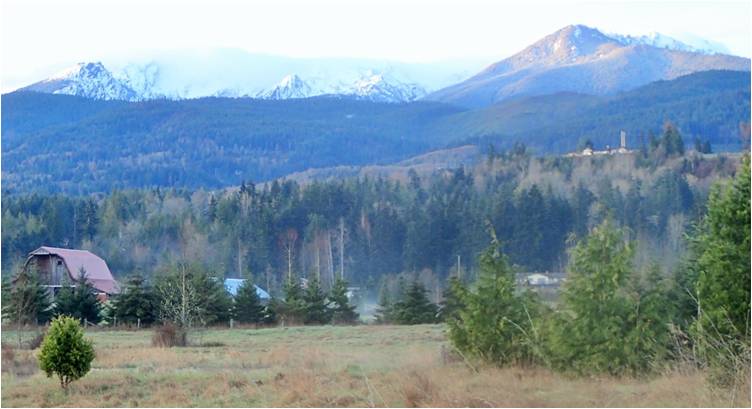 Tim Hennings is the founder and President of the software company Catalog-on-Demand. A lifelong cyclist and member of our board, Tim is a proponent of bicycle tourism as an economic generator for rural communities. He and his wife Catherine recently spent several days exploring the Port Angeles region by bike and shares his experience with us. This is the first of three installments.
It was the start of April and Catherine and I were itching to get out of town for our first biking weekend of the year. Trouble was, the weather forecast for the Puget Sound region was worse than bleak. And we couldn't go east of the Cascades because of lingering ice and snow.
What to do? Well, it seemed like a great time to check out the north side of the Olympic Peninsula. This area is the big winner of the famous rain-shadow effect. The Olympic Mountains block the storms coming in from the Pacific. The clouds dump their moisture on the south and west sides of the Olympics. This leaves the northeast side comparatively dry. The numbers tell the story. Port Angeles gets 25 inches of rain, Sequim gets only 16. Compare that with Seattle, which gets about 38 inches. Or the places we like to ride in the Cascade foothills, which get about 60 inches. We knew we wouldn't escape the rain entirely; after all it was April. Still, we liked the odds.
Shoulder Season = Light Traffic
Our other big consideration was the promise of fewer cars this time of year. The shoulder seasons are excellent for visiting the Olympic Peninsula.
We left Seattle early afternoon on Friday, and headed for Edmonds. The ferry line was inconsequential, as expected this time of year. Any trip involving a ferry ride is more fun. No matter what the weather, you're sure to get amazing views.
The drive from Kingston to Port Angeles was easy with no traffic. The best part was crossing beautiful Hood Canal, noting the awesome safety improvements to the bike lanes on the bridge. There is now a comfortable 5 foot shoulder with an excellent riding surface. Before, the grated sections were scary narrow with slippery steel plates. I had ridden the bridge a couple times back then, and swore I'd never do it again. Now it is safe and fun —  vastly improved. This is one of the most significant, but unsung, success stories for cycling in the state. Huge thanks to Washington Bikes and the local clubs for their tireless advocacy efforts!
Accommodations: Simple and Tasteful
We checked into a fun bike cottage in a quiet, working class neighborhood in Port Angeles. It is one bedroom with a living room, kitchen, locked storage for your bikes, and good wi-fi. It has a highly imaginative cycling motif. The best part is the bathroom vanity, but you have to visit to see it! If you have more than two people in your group, you might consider the bike-friendly Downtown Hotel: "Bikers are welcome to take their bikes to their rooms, or leave them in our store room for retrieval in the morning". We did not see any other hotels in Port Angeles put out the welcome mat for cyclists in this way. Hopefully that will change soon!
Friday Riding: Picturesque Calorie Burner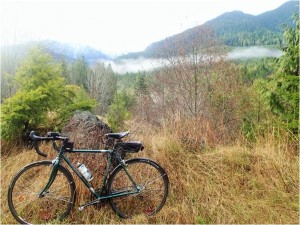 It stays light till past 7:30 this time of year, so we had plenty of time for a short bike ride before dinner. We headed out of town on Pine Street, which quickly becomes Black Diamond Road. This road is made to order for rural cycling. It has it all — farms, forest, and vistas. It is also low traffic — at least this time of year. Even in the drizzle, the mists drifting over the farms, valleys, and forested hills are just beautiful. And partly cloudy or sunny weather gives you spectacular views of the Olympic peaks.
It is mostly steady climbing for about 5 miles to the top of the hill, which is about 1000 feet above sea level. There are no steep pitches. Then it becomes Little River Road and you fly 4 miles down to views of the gorgeous, rushing Little River. There you meet up with Olympic Hot Springs Road. For us, that was a turnaround point. Little River Road was so beautiful we decided to head back the way we came. The first hill is seriously steep, but short. It can be easily walked if necessary. Other than that, the climb is reasonable back to the hilltop. From there it is an easy downhill all the way into Port Angeles.
From our cottage, we booked about 18 miles and 1700 feet of climbing. Here's the Garmin link: http://connect.garmin.com/activity/476183147
Friday Dining: Classy Ethnic
Most cyclists will agree that their sport is as much about eating as it is riding. Everything tastes better after a ride. Plus you can claim the moral high ground to indulge in something special. After giving thought to a surprising variety of choices in Port Angeles, we headed to Sabai Thai. It had excellent dishes, nice ambiance, and reasonable prices.
Next Up:
Riding in the Rain Shadow: Zig-Zag to Lake Crescent
Riding in the Rain Shadow: Olympic Discovery Trail to Sequim Bay