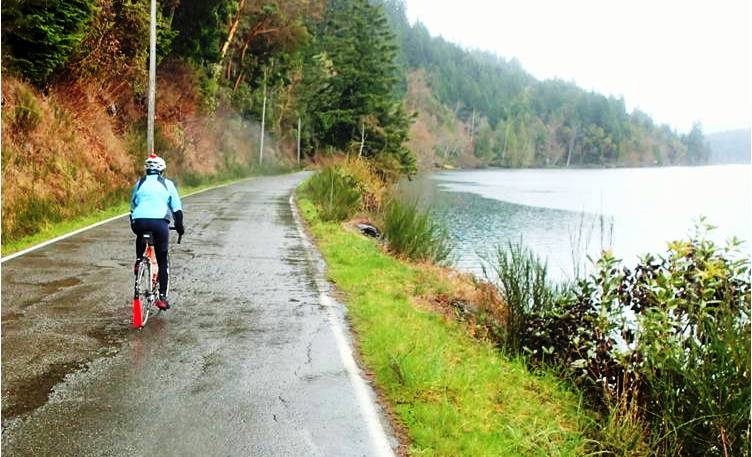 Guest blogger Tim Henning's bike exploration of the Port Angeles region continues with a ride to Lake Crescent. This is the second of three installments.
Saturday Riding: Zig-Zagging to Lake Crescent
We headed west the next morning on the should-be-famous Olympic Discovery Trail (ODT) out of Port Angeles. More about this when I talk about Sunday's ride, but this trail needs to be on everyone's checklist. The eventual vision is for it to go all the way from Port Townsend to the ocean, but what already exists is amazing.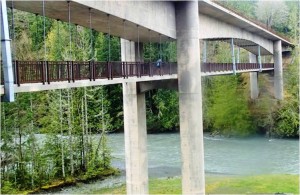 To get on the ODT westbound, go along the waterfront trail to Hill St — aptly named. You climb up the trail on the south side of the street. It continues on residential streets for a few blocks before reaching the separated trail on an old railway. It goes another few miles to the beautiful Elwha River. If you are out for a short ride, say, with kids, this is a worthwhile destination in itself. There is an impressive ped/bike deck under the bridge over the Elwha, which is a cool place to hang for a while. The views of the river are spectacular.
For now, the west end of the ODT is the Elwha bridge. But thanks to some local knowledge shared by the proprietors of our bike cottage, we had heard about some road bike-friendly roads to explore.
From the Elwha bridge, we followed the Elwha River Road to 112. We turned right on 112 for about 100 yards, then left on Dan Kelly Road — a nice, low traffic, paved road. It goes for 3 miles until it meets Eden Valley Road, for a gain of about 600 feet on a steady climb. Nothing steep. We had planned to turn right on Eden Valley in order to head back downhill, but we were surprised to see that it was paved in both directions. So we continued left on Eden Valley on some rollers, past more farms and forests, for another 2 miles until it dead-ended on a dirt road.
This was a good little side trip, because it gave us the opportunity to ride the full length of Eden Valley Road all the way back to 112. It is a beautiful paved road, all downhill from the junction with Dan Kelly Road. Nice views, pretty farms, low traffic, just what you want out of rural cycling.
We rode west on 112 for 4 miles. Riding on 112 was not great, not terrible. The shoulder was sufficient. We're not fans of riding on highways, but it is a fact of life when bike touring. You have to get from one back road to another, and often a highway is the only choice. Once again, it helped that we were doing this before tourist season.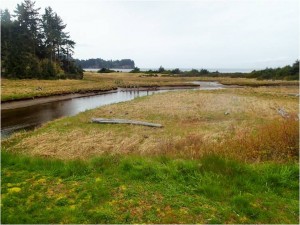 We turned right off 112 onto Camp Hayden Road. This road is said to get significant traffic in the summer, but on this day it was empty and delightful. We mostly coasted about 4 miles to Salt Creek Recreation Area. If we'd had bike locks, we would have stayed to explore. It looks like it has nice trails and a fun beach. In fact, it would make an excellent place to terminate a ride, if you could figure out the shuttle back to Port Angeles (hint to local bike shops — how about offering do-it-yourself cycling tours around Port Angeles, including a pick-up service at a few locations?).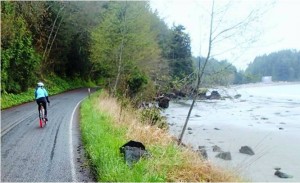 We continued west on Crescent Beach Road, which goes along the unspoiled, scenic Crescent Bay for our flattest mile of the day. We heard that you could pay a small fee to go out on the private beach, but did not verify that. If true, that might be a good deal for cyclists, provided that they lock up your bikes for you. Hopefully they will read this and realize there's an opportunity!
By this time, lunch was on our minds. So we continued west on Crescent Beach Road, which soon turned south back towards 112. The road starts out fairly steep, then is gradual for the next 2 miles. You gain about 350 feet.
Our destination was the Blackberry Cafe in Joyce, recommended by a chatty new friend we met at the park (that sure happens a lot on bikes!). To get there, we turned right on Agate Beach Road for about half mile, then left on 112 for a couple hundred yards. It was classic diner fare and met our needs exactly.
By this time the rain had settled in, so Catherine and I contemplated our next move.
Option A: Ride 112 back to the Elwha bridge
Option B: Take the bus back to Port Angeles (it carries up to 2 bikes)
Option C: Ride Joyce-Piedmont Road to Lake Crescent, and maybe take the bus back on 101.
We opted for (c), which turned out to be an excellent call. Joyce-Piedmont is another great cycling road, paved and low traffic. You do some significant climbing, about 600 feet over 3 miles. Then it is downhill for a mile or so to Crescent Lake.
You reach the lake at Log Cabin Resort, which is closed until May 23. Its closure made for ideal riding along the shore of Crescent Lake. It is about 3 fairly flat miles on East Beach Road to 101. The road is narrow and beautiful, but you would not want to share it with an RV. There are no shoulders. My guess is that East Beach Road would not be fun or safe on a busy day. On this day it was just Catherine and me on our bikes. Very nice. (Another hint to local bike shops: A pick-up or drop-off at Log Cabin Resort might be great too!)
Once on 101, we rode 7 or 8 miles to Olympic Hot Springs Rd. Again, we're no fans of riding on 4 lane highways, but this was fine. The shoulder was wide, the pavement was smooth, and we dropped about 500 feet. Even though it was raining, that stretch zipped by in no time.
In less than a half mile, we turned left off Olympic Hot Springs Road to Little River Road. True, we had just done this road (see yesterday's ride report above). But we were chilled from the wet and fast ride on 101. So a climb up Little River (and yes, we walked the steep part this time), followed by a cruise down Black Diamond Road to Port Angeles made a perfect capstone to our day's ride.
The day totaled out to 55 miles, and 3,600 feet of climbing. Here's the Garmin link: http://connect.garmin.com/activity/476183065.
Saturday Dining: Original!
Catherine jumped on Trip Advisor and researched a number of good possibilities for dinner. We chose the Kokopelli Grill, and loved it. I had the Crab Chile Relleno, which was one of the more original and delicious meals I've had in a while.
Day 1: Riding in the Rain Shadow: Exploring the Port Angeles Area by Bike
Day 3: Riding in the Rain Shadow: Olympic Discovery Trail to Sequim Bay