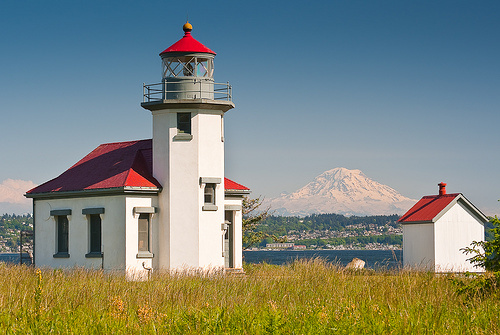 For a great bike getaway, head out to take a ferry ride from the Fauntleroy ferry terminal in West Seattle to Vashon-Maury Island. Blogger Nancy Yu shared her expedition with us.
Fauntleroy is located eight miles south of downtown Seattle across the West Seattle Bridge. The ferry dock area is surrounded by residential neighborhoods with limited on-street parking and "permit parking only" areas. The parking lot on Fauntleroy Way, SW & SW Cloverdale Street has a 4-hour time limit. The parking lot at Lincoln Park has no time restrictions with open hours from 4 AM to 11:30 PM. The lot is located at the south end of Fauntleroy Way SW before the ferry terminal. Restrooms and water are available at the park.
From Lincoln Park, it's a quick half-mile descent to the ferry terminal. We purchase our roundtrip tickets at the vehicle tollbooth; cyclists pay a regular passenger fare ($5.00-other discounts may apply if eligible) plus a bicycle surcharge ($1.00)=$6.00.  Cyclists traveling with a multi-ride card are exempt from the bicycle surcharge. Bicyclists should arrive 15-20 minutes before the departure time to be loaded on the ferry prior to the vehicle loading process. There are no bike racks on the ferry; they can be hooked on or strapped to the yellow side railings of the boat.
The 20-minute crossing to Vashon is a very beautiful ride with fabulous views of Seattle, Puget Sound and the surrounding Cascade and Olympic Mountain ranges.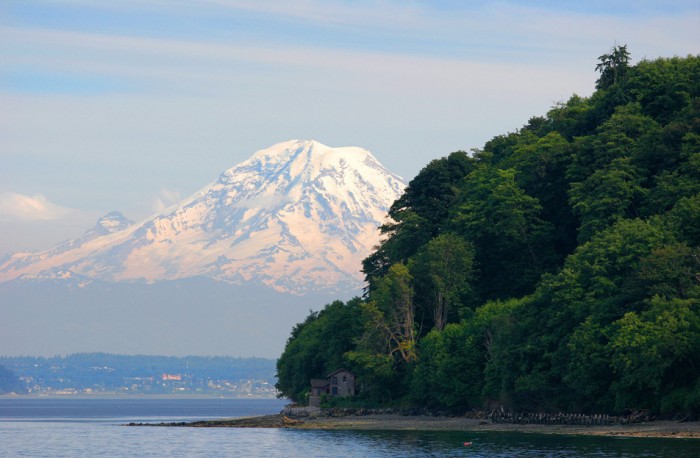 On the ferry ride over, we got to chit chat with Domenico DiGregorio who commutes daily to Vashon from Seattle. He also dedicates his free time to run Plumbers Without Borders, an organization that helps bring safe drinking water and sanitation to people with urgent needs. He gives us a few recommendations for a couple of places to eat on the island and gives us an insider tip on avoiding all the traffic coming off the ferry. Instead of going left onto the Vashon Highway like everyone else, he tells us to go right onto 103rd Avenue SW; it will merge onto Vashon Highway at the top of the hill.
Avoiding traffic sounds good to us, so up the hill we go. We quickly found out why no one goes on 103rd Avenue SW, especially cyclists — it's 9/10th of a mile long with very steep grades ranging from 13-20% and gaining 338 feet of elevation. OUCH — thanks, Domenico!
At the top of the hill, we continue on Vashon Highway to SW Cedarhurst Road; this quiet back road winds through the thick forest along the NW edge of the island with sneak peeks of Fern Cove. Next up, Westside Highway SW; the rolling climbs on this road cuts through the many small residential acreages scattered within the woods. On Wax Orchard Road, there are plenty of open meadows, pastoral homes and a few horse ranches and stables.
We ride pass Wax Orchards Airport on Wax Orchards Road and turn onto SW Reddings Beach Road for a short loop out and around to SW 240th Street. This is where we see a man from a distance pushing a car slightly uphill with some difficulty. We parked our bikes off to the side and offered our help. His driveway was about a quarter mile up the road so here we are pushing his car while he's steering it and the first thought that comes into mind is "no one's watching the bikes" (California paranoia where theft is inevitable) and lo and behold an older man riding a bike comes out from another driveway and offers to stay with the bikes until we come back! A good deed done is another good deed received in return.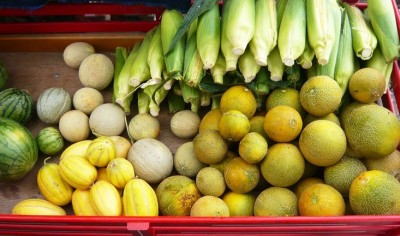 We head east along two-lane Vashon Highway, which is lined with red-barked madrona trees, to the small village of Burton for a loop around Burton Acres Park with fantastic views of Quartermaster Harbor. Burton offers the basic needs of a small town: a post office, a general store, a garage, a gallery and art store.  It is also home to the Burton Coffee Stand; great coffee and homemade pastries! At Camp Burton, dozens of kids on bikes are being chaperoned and encouraged by the adult camp counselors as they pedal their way up the gentle rolling hills. One counselor yells out to the kids, "Those are real cyclists," and I ring my bell and wave as Michael responds, "We're all just out here turning the pedals — great job!"
From Burton, we take SW Quartermaster Drive, the side road to Maury Island over to Portage. The gentle climb on Dockton Road SW takes us by the Vashon Golf and Country Club, the Dockton Park and into the town of Dockton. This is a gorgeous area with fabulous views of the marina, Quartermaster Harbor and of course Puget Sound! We continue on 99th Avenue SW to SW 268th Street for the out and back on Hake Rd SW. This road goes out towards the tip of Maury Island and dead ends at the beautiful residential homes along the beach.
We make our way back out of Dockton and take SW Point Robinson Road heading east to Point Robinson Lighthouse. The rolling climbs on this road are steep with 12-13% grades! The steep drop at the end of the road takes you down to Point Robinson Park and Point Robinson Lighthouse. It's a gorgeous area with a sandy beach covered with driftwood and jaw-dropping views of the iconic Mount Rainier!
We climb out of Point Robinson and continue on SW Luana Beach Road; this is one beautiful stretch of road!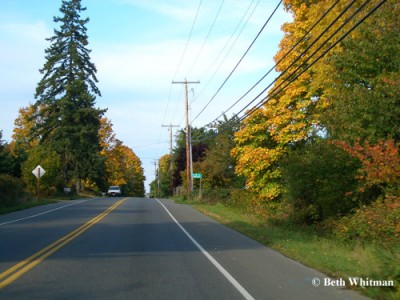 The first thing I noticed was the absolute lack of noise — it was Zen — fully quiet with complete stillness. I was in awe and just loving every moment of it! Michael and I usually don't talk that much while riding and this section of the route heightened my awareness of just how wonderful it can be to stop and listen to utterly nothing — the natural state of being! Life is great!
We leave Maury Island and return on Dockton Road SW and George Edwards Road; this road goes along a scenic waterfront drive with access to Tramp Harbor Dock. The long wooden pier juts out into Puget Sound where you can watch the cormorants, fishermen and boats out on the water.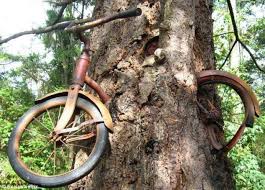 The climb up SW Ellisport Road takes us onto Vashon Highway, the main road into the center of town. On SW 204th Street, you can take a short walk on a trail to see The Bike in the Tree, where an evergreen tree has grown around an abandoned child's bike and lifted it off the ground.
On Vashon Highway, I noticed there were at least 5 different churches within 3 miles. This road runs through the center of Vashon with many shops, galleries and restaurants housed in historic buildings. There are plenty of food choices to choose from — everything looks great! Vashon has no traffic lights and only one fast food restaurant, Subway. Stay on Vashon Highway and it will lead right back to the ferry dock.
Vashon Island is a beautiful quaint community composed of many farms, pastoral fields, dense forests and residential homes scattered around the woods. Vashon and the smaller communities within this island seemed untouched and remain as it has been for over 100 years. Some things are better left alone! It's a quiet place with sprawling acres of woods and sweeping vistas of Puget Sound. For cyclists, it's great if you like hills and more hills. The country roads offer wide and comfortable shoulders with minimal to no traffic and great overall pavement conditions. Across this rural landscape, many of the farmers and locals offer self-serve farm/flower stands on a honor system with signs telling you what's available. It's a great approach to being able to provide local fresh ingredients to anyone who pays a visit to the farms!
So, come on out and pay the island a visit. Vashon welcomes you — enjoy it!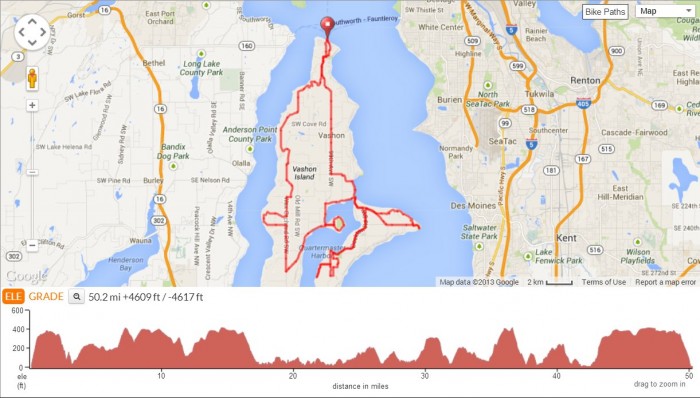 Guest blogger Nancy Yu writes about her bike travels at Ride Chronicles. She says, "I loved cycling around Washington. It's a beautiful state with a wonderful network of trails and bike-friendly people. I ride to explore and love sharing my findings! I hope the write-ups and pictures will inspire those who can to get out there and enjoy the natural beauty of all that is available to us."