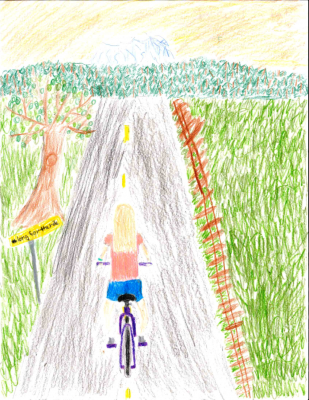 We are pleased to announce that Julie Darilek of Olympia is the first place winner of the Washington State 5th Grade Bicycle Poster Contest. Her poster has been submitted as an entry to the National Bicycle Poster Contest hosted by Saris Cycling Group. You can vote for her poster in the online voting going on today through November 19.
Julie is a student at East Olympia Elementary. Her mother reported that she has enjoyed participating in the bicycle poster contest and was excited to learn that she was the first place winner for Washington state. She will receive a bike, helmet and bell from Schwinn for her efforts.
High fives are also in order for Melanie Diaz Garcia of Anacortes and Aesha Aden of Des Moines placing second and third respectively. Melanie, a student at Island View Elementary, will receive a helmet and bike bell as the second place winner. Aesha, a fifth grader at Parkside Elementary, earns a bike helmet for her third place finish.
Cast your vote for Julie's poster as the national winner!
Saris is conducting online voting for the national winner November 17 – November 19. Anyone can cast their vote for Julie's poster through the Saris website. If Julie is the national winner, she and a parent will attend the 2016 National Bike Summit in Washington, DC. Additionally, East Olympia Elementary will receive Saris bike rack and The Hub, an active transportation encouragement system.