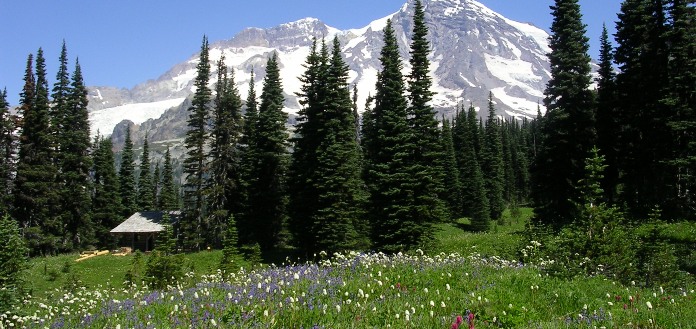 I love Mount Rainier National Park and I feel incredibly fortunate to have this natural wonderland in my back yard. An active volcano and the highest peak in Washington state, the mountain dominates the landscape for many of us. For me, the park is a year round destination to hike, bike, ski, and stay connected to nature.
The park is home to subalpine meadows that produce an amazing display of wildflowers, and this is what lures me there in the summer. I recently visited Indian Henry's Hunting Ground—one of my favorite wildflower meadows at Mount Rainier—but this year I incorporated a bike ride into my approach. Yes, a bike ride. Instead of hiking to Indian Henry's on the Kautz Creek Trail, my usual approach, I biked up the closed-to-motor-vehicles Westside Road to access the Tahoma Creek Trail and Wonderland Trail to the meadow.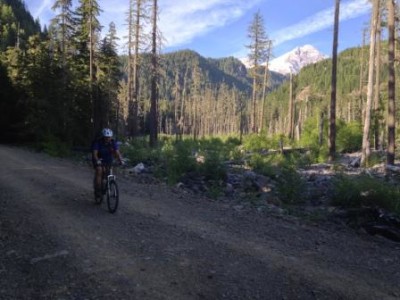 Westside Road was once part of a grand vision to encircle Mount Rainier with a road but lack of funds, challenging topography and repeated washouts killed the dream. Today, vehicles can only travel the first couple of miles of road. The remaining nine miles of Westside Road, which ends at Klapatche Point, is now accessible to hikers and bikers only.
Use the Nisqually entrance via the community of Ashford to the park. It will cost you $20 if you enter with a motor vehicle and $10 per person if you arrive by bike. (Park fees and passes info here.) Look for Westside Road on your left about a mile after the park entrance.
You'll only ride a couple of miles up the road before you switch from biking to hiking, but it's a pretty ride. It's a wooded ride with views of Fisher Creek and a peek at Mount Rainier. You'll want fat tires for the ride. The road is not paved, rough in spots, and you have a water crossing. As you approach the first switchback, look for the unsigned Tahoma Creek Trail on your right. Walk a short distance in and find a place to stash your bike. Be sure to bring a cable lock to secure your bike to a handy tree.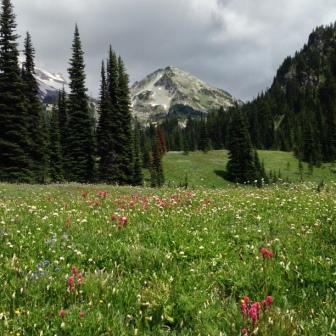 Now the hiking begins. The Tahoma Creek Trail, two miles in length, is unmaintained and washed out in spots. At a trail junction, follow the Wonderland Trail to cross Tahoma Creek on a suspension bridge and climb the flank of Mount Ararat to the fairy tale meadows of Indian Henry's. Wander among the wildflowers to the historic ranger cabin. Follow a path to Reflection Lake, Pyramid Peak and more stunning wildflowers. Listen for whistling marmots and singing birds. Watch for bears.
When you've had your fill of wildflowers and Mount Rainier views, retrace your steps back down to your waiting bike. You can practically coast back to your car and load up your bike.
Ready for a post bike and hike food stop? Check out the historic Copper Creek Inn in Ashford. Burgers, pasta, stew, salads, and more are on the menu. And don't miss their popular blackberry pie!
August 14, 2014 Update:
Westside Road is temporarily closed due to a glacial outburst that rumbled down Tahoma Creek. Please consult Mount Rainier National Park at nps.gov/mora for current conditions.