Fay Bainbridge Park is perfect for weeknight adventures and a great spot to discover (or help your friends discover) bike traveling magic for the first time.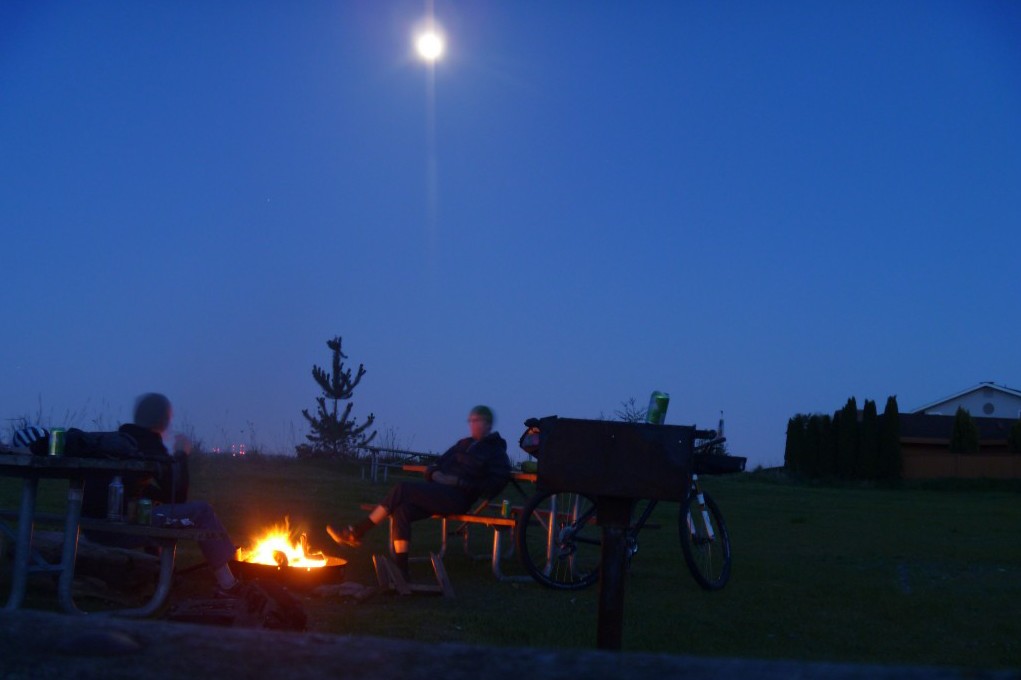 Distance: 14.2 miles (round trip)
Elevation: 1,083 feet (round trip)
Highlights: easy overnight bike camping, beach-side camping, views of Rainier and the Cascades, weeknight camping
Bike touring is a special thing. It provides a sense of adventure, an escape from routine, and the unique satisfaction of traveling by your own power. And while long-distance touring has its own rewards, it only takes an overnight trip to capture a little bit of that bike travel magic.
Luckily for Seattlites, there is a laundry list of nearby campgrounds to choose from for easy adventures. Of those options, Fay Bainbridge Park on Bainbridge Island is about as easy as possible. It is a mere 7 miles of pedaling from the ferry dock to the park, there's easy access to grocery stores for your campground feast, the campsites are right on a Puget Sound beach, and on clear days there is a terrific view of Mount Rainier. It is a gem of a resource for novice and experienced bike campers alike.
The adventure starts in downtown Seattle at the Seattle Ferry Terminal. Take the 35 minute ferry ride to Bainbridge Island. When you get off the ferry, head north on Olympic Drive. When you reach the first major intersection with Winslow Way head right to continue towards Fay Bainbridge or left if you need to stock up on provisions. The Town and Country grocery store is a few blocks up Winslow on your left.
Continuing towards the park, head .4 miles down Winslow and take a left onto Ferncliff Ave. At mile 2.1 Ferncliff curves left and becomes Lofgren Rd. After another .4 miles, Lofgren curves right onto Moran Rd. Continue on Moran until it Ts into Madison Ave. Take a right on Madison then your immediate next right on Manitou Beach Dr.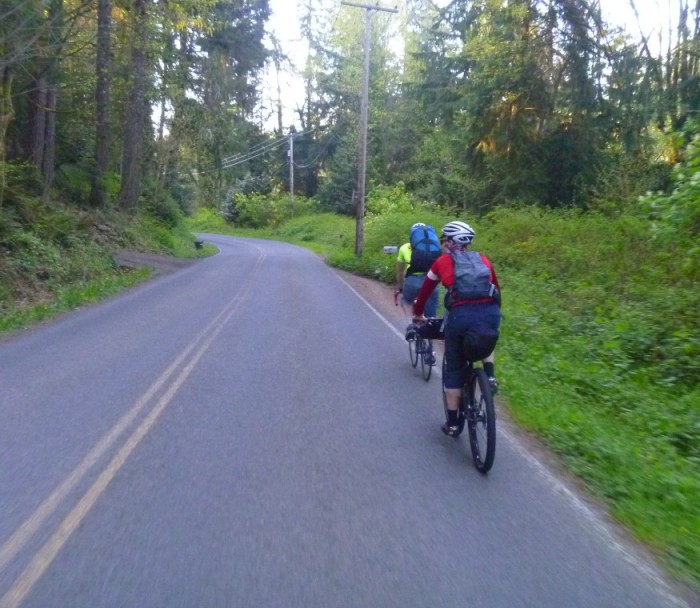 Continue on Manitou for 1.3 miles until it curves left and becomes NE Valley Rd. After .3 miles on Valley, take a right on Sunrise Dr. Continue on Sunrise Dr. for another 2.5 miles. The entrance road to Fay Bainbridge will be on your right at mile 7.1.
Fay Bainbridge has 42 campsites including three sites specifically for people arriving by bike, foot, or kayak. Starting summer 2015, most of the campsites can be reserved in advance by calling 206-842-2306 x118 during business hours. 12 of the sites will still be available first come first served along with the hiker biker specific sites.
When you're ready to head home, just retrace your turns back to the ferry. If you don't time things right or just aren't ready to head back to reality, downtown Winslow has lots of great coffee shops and restaurants. The cash-only Blackbird Bakery at Winslow Way and Madrone Lane has spectacular pastries.
Bike camping can't get easier than a trip from Seattle to Fay Bainbridge which makes it perfect for weeknight adventures and a great spot to discover (or help your friends discover) bike traveling magic for the first time.
Update: This post originally referred to Fay Bainbridge State Park. Thank you to those of you who let us know it was transferred to City of Bainbridge Island and is no longer a state park.