Today's post is written by Brian Foley of Black Diamond. Brian has been associated with the bicycle industry for over 15 years and is a member of the Washington Bikes board of directors.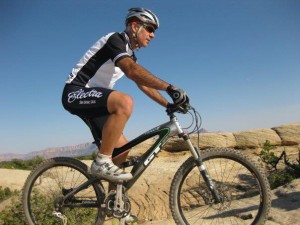 At Washington Bikes we've adopted an inclusive and inspiring slogan to evoke our vision and mission; "all kinds of riders for all kinds of reasons". The inclusiveness of the statement is manifested in many ways. The most obvious one is it's celebration of the tremendous variety of people who ride bikes and the many motivations which inspire them to do so.
I've spent over 15 years working in the cycling industry and one of the observations I often repeated to colleagues new to the business was that cycling is not a single activity. It's at least a dozen distinct activities and even more if you count the many sub categories: Road cycling, mountain biking, bike commuting, adventure touring, BMX riding and cruising, to name just a few.
There are many riding styles and objectives with various bike designs available to optimize these experiences. From a rider standpoint there is an equally wide variety of motivations for bicycling, both emotional and rational.
Emotional reasons range from social connection, exploration, exhilaration, accomplishment and of course the sheer joy and fun of riding a bicycle.
Rational motivations are equally varied, ranging from the satisfaction gained from zero emissions transportation to saving money, improving health and wellness, improving competitiveness, and increasingly (especially within cities) improving one's personal transportation efficiency.
Bicycling's popularity and accessibility is demonstrated by the fact that it is second only to walking as the country's most popular outdoor recreation activity (nearly 40 million Americans ride a bike at least 6 times a year). Its broad appeal originates from its ease of entry (both from a learning how to ride standpoint and its close to home accessibility), along with the above mentioned variety of riding styles and motivations.
Another unique aspect of bicycling is that it is both a core recreational activity and an increasingly viable, popular and efficient mode of transportation (especially as Green Lanes are developed). Additionally, mounting evidence is suggesting Green Lanes provide a wealth of economic benefits as well, from infrastructure to health care cost containment, to improving retail sales and real estate value and even human capital recruitment.
It's easy to see how there really are many different kinds of riders representing a wide variety of reasons for riding a bike. At Washington Bikes we support them all and our efforts to grow bicycling statewide reflect this celebration of all things bicycling.
As I reflect further, I'm also struck by the reality of this tremendous variation existing within individuals as well. Over the years I have engaged in many styles of riding at various participation rates and enthusiasm levels. From the emotional fun and exhilaration of mountain biking to the rational satisfaction gained from the benefits of bike commuting, many individuals encapsulate the spirit of "all kinds of riders for all kinds of reasons."