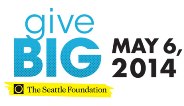 In case you might have forgotten, tomorrow on May 6 Washington Bikes will participate in one of the largest charity events in the Northwest:  GiveBIG, a 24 hour online philanthropic event. Please set an alarm on your smart phone, write a note in your day planner, or tie a string around your finger–anything to remind yourself to make a gift to grow bicycling safety, education, and outreach in Washington. You can GiveBIG right here when the clock strikes midnight!
GiveBIG 2014 provides an opportunity for the Puget Sound region and surrounding communities to give generously to over 1500 non-profits that are making a difference in our community and quality of life. Between midnight and midnight (PDT) on May 6, each donation made will receive a pro-rated portion of matching funds from both The Seattle Foundation and multiple GiveBIG sponsors. The amount of the match will depend on the size of the matching fund pool and how much is raised in total donations on GiveBIG day.
We encourage supporters of our mission to grow bicycling in Washington State and create a more bike and pedestrian friendly landscape to make a donation on May 6! To learn more about our programs and current need, visit Seattle Foundation's  Washington Bikes Donation Page.
What we do to bring you better bicycling:
·         Work for more funding for bike lanes, trails, and connections to create better riding in more places;
·         Promote rides and events through our communications and social media;
·         Pass laws to improve safety, like the Neighborhood Safe Streets Law we're now helping towns implement to slow speeds on residential streets;
·         Highlight great bike travel destinations and find businesses that offer you special deals as a biking customer.
GiveBIG is only possible with the generous support of community-minded organizations that contribute matching funds making this event a unique and even bigger financial success. We'd like to thank them with the hope you'll support them in your future purchasing and investment decisions.
In addition to The Seattle Foundation, individual donors and sponsors like King 5 Television, Seattle Sounders, Microsoft, and the Wyncote Foundation NW, we'd like to acknowledge the Seattle Sounders for partnering with GiveBIG and promoting the event at their games.  For a complete list of Lead Sponsors, Supporters, and Friends, visit here.
So mark your calendar and follow our Facebook page and Twitter account for updates and exciting news!
And for friends of Washington Bikes, we thank you in advance for your gift to ensure we continue growing bicycling in Washington!  For the seventh consecutive year the League of American Bicyclists has ranked Washington the #1 most bicycle-friendly state in the nation. With you behind us we'll continue raising the bar for bicycling here at home and nation-wide!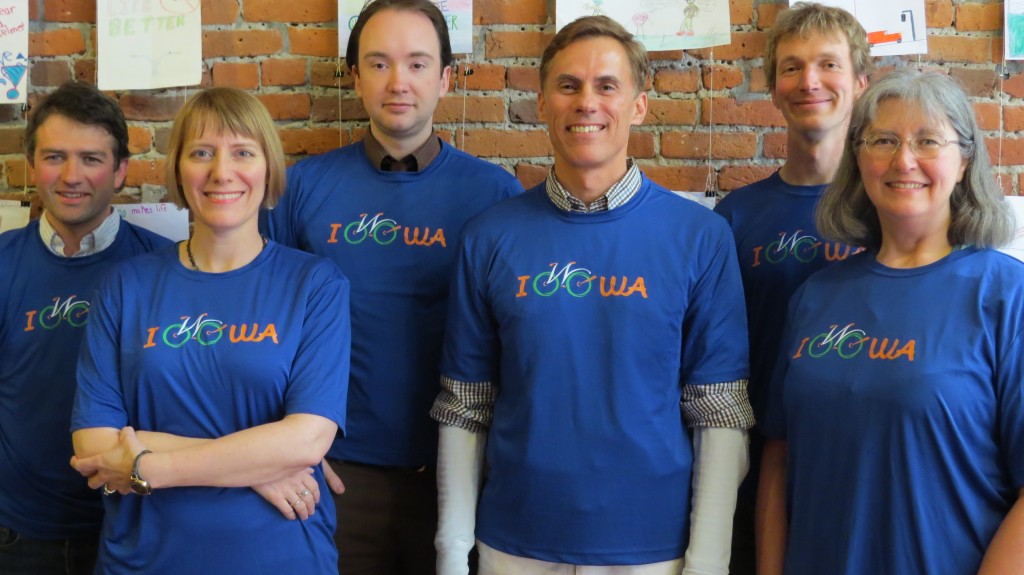 Exec Director Barb Chamberlain and WA Bikes Staff