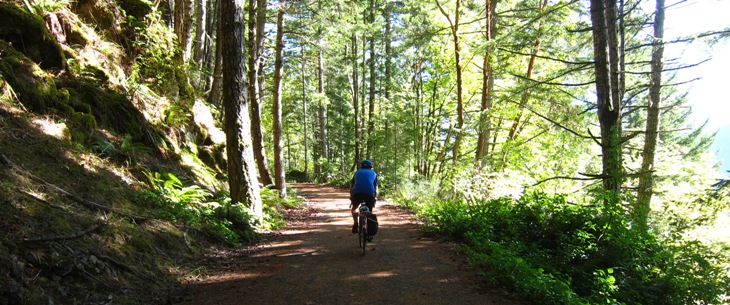 If you have ever biked or driven along the south shore of Lake Crescent on Highway 101 on the Olympic Peninsula, you have likely seen this sign warning bicyclists of the upcoming miles of narrow to nonexistent road shoulder on this route. It's enough to make some bicyclists turn around.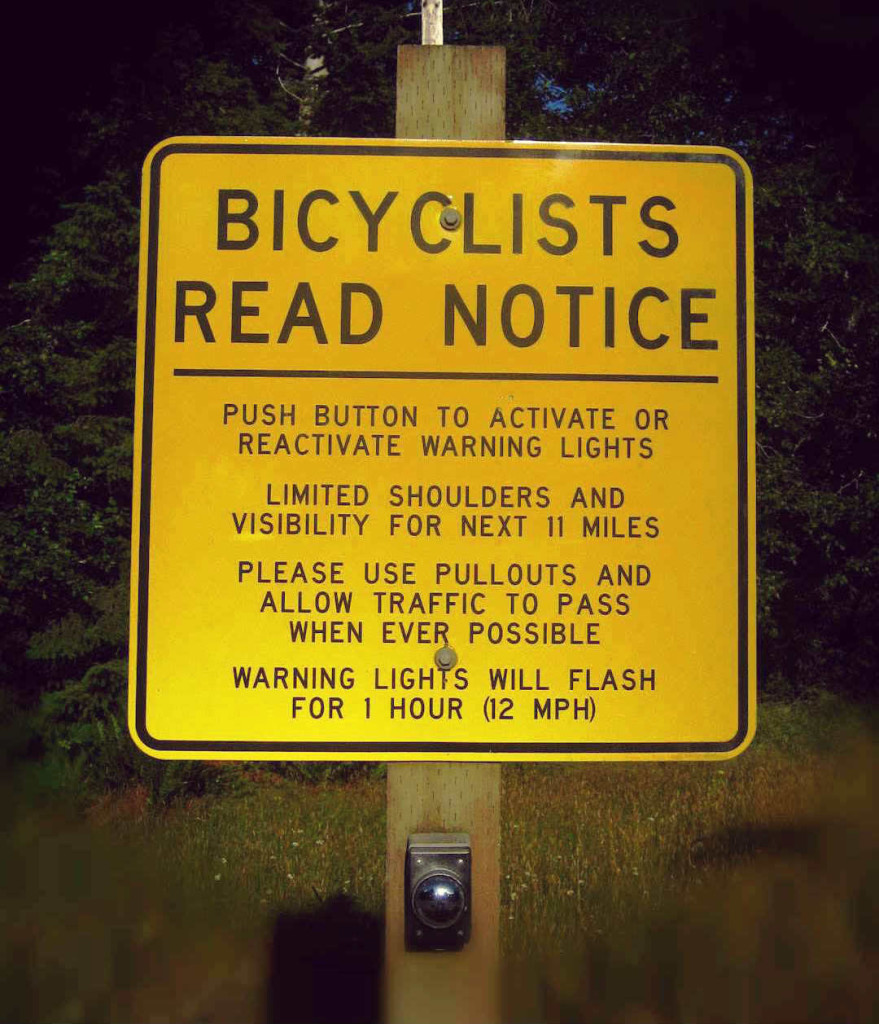 If you don't mind some gravel riding, it's possible to avoid this stretch of Highway 101 by using finished and unfinished sections of the Olympic Discovery Trail. I explored this portion of the trail in early October and found most of it suitable for my Surly Long Haul Trucker with 1.25" tires.
[Tweet "A little gravel biking lets you ride car free around Lake Crescent."]
You are following a portion of the historic grade of the Spruce Railroad on the north shore of Lake Crescent. The railroad was built in 1918 by the US government to extract Sitka spruce logs from surrounding forests to manufacture World War 1 airplanes, then served commercial logging interests after the war. The railroad line was eventually abandoned in 1953 and this segment became known as the Spruce Railroad Trail. Today it is gradually being restored and upgraded for use as the Olympic Discovery Trail route.
Access begins at the trailhead on East Beach Road in Olympic National Park. Approximately the first mile of this trail has been renovated and paved until you reach the first railroad tunnel. Now the fun begins. The tunnel is filled with boulders and debris, so you will need to dismount and walk your bike on the narrow and steep dirt path that detours around the tunnel and brings you to a scenic deep water cove on the lake called Devil's Punchbowl—a great warm weather swimming hole.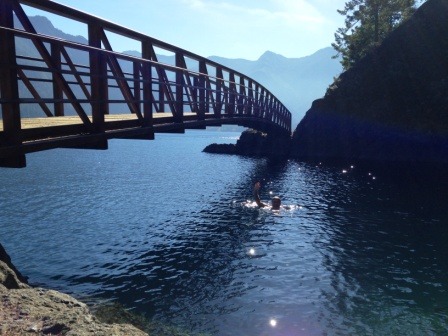 A bridge spans the deep pool and the trail continues to follow the rocky north shore of Lake Crescent. The trail surface is dirt, rocks, and roots, but mostly rideable on a bike. You are often riding under the tree canopy and will be treated to wonderful views of the lake, Mount Storm King and other nearby Olympic peaks.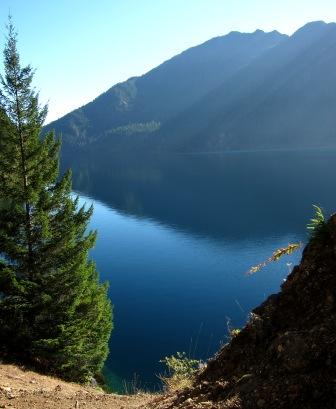 Be sure to keep your eyes open for a remnant of old rail in the corridor.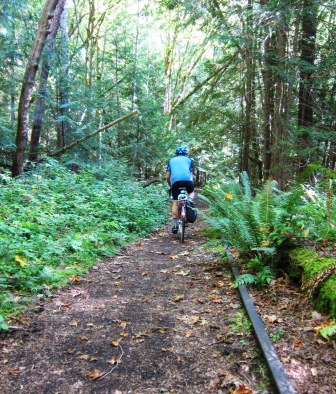 You will need to make your way around a second railroad tunnel — roughly 500 feet long — then continue to follow the unimproved trail for approximately another 1.5 miles. After your three miles of gravel travel you are rewarded with a return to a paved trail!
It's a smooth six miles on this paved section past Camp David Jr (Clallam County group campsite), Fairholme in Olympic National Park, and beyond Lake Crescent to Highway 101.
You can find a map for this section of the trail on an Olympic Discovery Trail website managed by the Peninsula Trails Coalition. You should consult the website in advance of any planned trail visit for this segment, as corridor upgrades will continue and may cause closure of portions of the trail.
[Tweet "130mi of beautiful WA bike riding: Olympic Discovery Trail!"]
The route of the Olympic Discovery Trail begins in the Victorian seaport of Port Townsend and travels 130 miles around the northern portion of the Olympic Peninsula to the Quileute tribal community of La Push and the Pacific Ocean. The trail follows the Strait of Juan de Fuca with views to Canada, then moves into timberland crossing creeks and rivers (including a spectacular crossing of the Elwha River) on its way to the ocean. About half the route exists as a separated trail.
[Tweet "Mountains, ocean, forests, rivers: Bike Olympic Discovery Trail, see it all "]
Want to read more bike travel ideas? Sign up for our e-news.