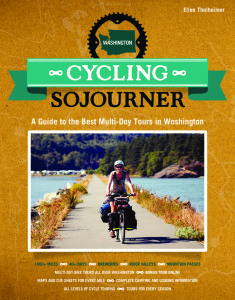 If you're planning a bike touring vacation in Washington state you need this book: the first guide to multi-day bike tours in Washington to come out in over a decade!
Reviewers describe it as an essential guide to bike touring in the Evergreen State, with plenty of how-to on planning your bicycle trip along with detailed maps and cue sheets, difficulty ratings, and reviews of places to stay, eat, drink, and have fun. The book also helps you put together pieces from different tours to create your own unique bicycle trip through Washington's great outdoors.
Every review keys in on elements that matter to that reviewer and it was tough choosing just one quotation from each review for this trip through a few of them, so check out the links.
"The maps and cue sheets are top-notch, and the attention to detail in the route descriptions is really superb. All in all, it's a beautifully-produced book and I can't wait to go try one of the routes!" — Review and giveaway (chance to win if you comment on post by May 7, 2014) on Bicitoro
"… there's so much more to this guide than 'where to ride your bike'. Following on the success of Cycling Sojourner: Bicycle Tours in Oregon
, Thalheimer continues with the same conversational style of writing that makes you forget you're actually reading a guide.  The book reads more like a good friend's (highly detailed) tour account, than the typical  dry recitation of data in 'traditional' cycling guides.  One of the most unique features of this guide is the attention given to each tour's local culture and environment." —  Two Wheel Travel
"The Cycling Sojourner books are the print equivalent of having a pal who enthusiastically says "Do you want to go on a bike trip? I know the best spot!" Ellee Thalheimer and her friends have done a lot of riding around Oregon and Washington and, more importantly, they've done a lot of work in making note of great places to stay, to eat, to see and remember…. The best part about these books is the fact that each trip has been ridden and documented by a person who loves bike touring. These are books that make you want to pack up your bike and hit the road. And that, like these books, is something I strongly recommend." — Kent's Bike Blog
"For just about anyone hoping to bike-tour Washington, Thalheimer's guide is sure to contain a ride matched to your skills, interest, and available time. She even includes a route finder grid aimed at helping you choose the most appropriate tour…. In addition to serving us locals, the guide aims to grow Washington as a bike touring destination by showcasing our beautiful scenery, topography, roads, and people to riders from outside the state and beyond…. I won't go far into those details for our generally local readership, but the Sojourner does a great job providing resources to out–of-area tourists, too, such as from airport connections, train, rental car, and Uhaul options — a great idea, btw, if you're transporting multiple touring bikes or tandems to/from the beginning of your route — things to do in town, ways to extend your tours and see more of the state, and so on." — Carfree Days
NOTE: The review on Carfree Days has important points for those who tour as a family so if you do family bike travel make sure to read that one.
"Cycling Sojourner provides comprehensive logistics while cramming in insightful tips, and teases tantalizing temptations like descents that make your eyes water, snow-capped mountains with clear lakes, sightings of whales, bald eagles, and cougars, serenely quiet valleys, and miles upon miles to connect yourself to the environment and communities that await you." — Bike Portland
"Cycling Sojourner is like a real life Choose Your Own Adventure book for bike touring. It lays a solid foundation to plan your pedal-powered vacation ranging from bare bones camping in the Cascades to sipping wine in Walla Walla." Seattle Bike Blog
How to Get Your Own Copy
Come into our 

bike gift shop store in Seattle's Pioneer Square

 (open Monday-Friday 9:30am-4:30pm). In addition to buying a copy of this book you can pick up bike maps from around the state, Ellee's Oregon guide, other bicycling books, and bike-themed gifts, if you're so inclined

Check with local bookstores and REI. If your favorite bookstore doesn't carry it, tell them they can order through book distributor IPG
Bonus: Your Book Purchase Benefits Bicycling
Washington Bikes, which is a 501(c)(3) nonprofit, supported the production of the book and receives royalties on every copy sold. You can feel good for more than one reason when you start planning those trips.
Related Reading
Sign Up to Receive Bike Travel News and Other Updates on Bicycling in Washington