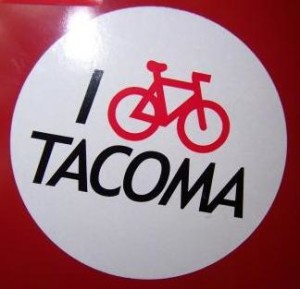 Tacoma businesses can keep customers rolling in on two wheels with grants meant to promote bicycling by customers, employees and business owners within Tacoma business districts while raising the visibility of cycling in the city.
According to an announcement from the City of Tacoma:
Any business owner or member of a Tacoma business district is eligible to apply. Up to $500 will be approved per business district, there are 15 in Tacoma, and projects should have district approval. The application and more information are available from the City's website. The deadline to apply is April 4, 2014.
Examples of projects that could qualify for a Bicycle Friendly grant include bike sharing, valet bike parking/bike corrals for special events, offering incentives to customers who arrive by bike, and merchant delivery bicycles.
The Bicycle Friendly Grants announcement follows a Bikes Mean Business workshop held earlier by the city. Studies have shown that people who bike will patronize businesses that are easily accessible by bike, and are more likely to make repeat trips to their local stores—bike local, shop local.
For an application and more info about the Bicycle Friendly Grants:
City of Tacoma: Bicycle Resources
Related information:
Bicycling Means Business Report
Long Beach CA Bicycle-Friendly Business Districts Program
LAB Bicycle Friendly Business Program