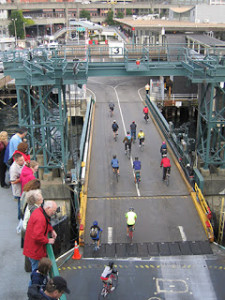 Whether you live in the Seattle area or go to Seattle for a visit, it makes a great start, stop, or destination for day trips by bike, a bike overnight, or a multi-day bike tour. Here are a few ideas to inspire your getaway planning whether you're starting in Seattle or in one of the towns along the way in these tours and riding to Seattle and back home again.
Depending on how many miles you want to do in a day, any of these could be broken up into multi-day trips or packed into one long fueled-by-calories day. Mileage varies depending on your starting point and several include transit suggestions to adjust total miles to suit you.
Seattle to Tacoma: An overnight bike trip that could also be a day trip. Part I, To the Dome: Seattle to Tacoma, and Part II, Tacoma to Seattle via Vashon Island
Seattle to Edmonds: Day trip that could easily be turned into an overnight or extended to more destinations.
Seattle to Lake Stevens, Marysville, and Arlington: Four-day tour starting in Seattle with side trips from a base in Lake Stevens: Day One, Two, Three, Four. You could use some of the rides in Snohomish County listed below to change or extend this.
Seattle to Snohomish: Day trip because it's worth riding 72 miles for a great piece of pie; could easily be turned into an overnight or longer, using our Snohomish County Bikes series for additional inspiration.
Seven Wonders of Ballard: Short, easy ride with stops in this Seattle neighborhood.
Seattle to Lake Forest Park: A day trip to northeast Seattle for books and a bakery stop.
Everett's Easy Road Ride: Just like it says, an easy road ride of 29 miles on flat country roads direct from downtown Everett.
Country Riding on the Everett-Lake Roesiger Loop: Quiet roads, mostly flat, 50+ miles through farm country starting from Everett and riding through Snohomish, Monroe, and Machias.
The Classic Camano Island Loop (from Stanwood): Take Amtrak Cascades to Stanwood and take off from there for a challenging, hilly ride of around 50 miles.
Gravel Biking the Stillaguamish Valley: Bring your wide tires to explore around Darrington — loops of various lengths and a map developed by a local rider who knows the area well.
Snohomish Bikes: The Centennial Trail: Easy, flat, and quiet. The Lake Stevens tour above also makes use of this section and has a couple of options for getting from the Burke-Gilman Trail and East Lake Sammamish Trail to the Snohomish Centennial Trail. Great for families and beginning riders looking for a quiet trail.
Snohomish to Arlington on the Centennial Trail: A loop that gives you a nice turnaround point and choices for where you'll fuel up with calories at both ends.
Nakashima Farm Ride – Pedaling Through History on the Centennial Trail: From Arlington to where the trail ends (for now) at the Nakashima Barn, another nice quiet stretch for families and beginners with flat, easy miles. This write-up gives you some of the area history.
Escape from Seattle: Not a blog post, this is a chapter in Cycling Sojourner: A Guide to the Best Multi-day Tours in Washington that takes you east on the John Wayne Trail from Seattle through Issaquah, Fall City, North Bend, Easton, and Cle Elem to Ellensburg
What's your favorite ride? We'd love to feature your ride, the stops along the way, and your tips for a more pleasurable experience bicycling through the #1 Bicycle Friendly State in America. Whether you roll around Seattle or Spokane, Bellingham or Bainbridge, Vashon or Vancouver, write your ride and we'll share it. You can utilize this form for a short post or contact us via email for longer stories.