Guest blogger Diane Rudholm is a Seattle-based writer and a graduate of Cascade Bicycle Club's Advocacy Leadership Institute. She blogs about bicycle adventures and advocacy at www.dianebikes.com, where this post first appeared. Say "hello" on Twitter (@dianebikes).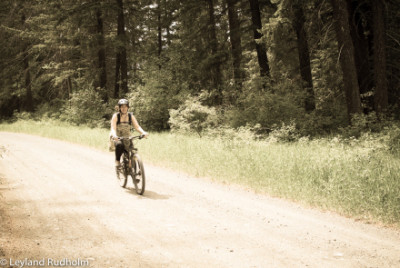 My husband, four-year-old son, and I visited family in Twisp, Washington, for Memorial Day weekend.
On Sunday, we picnicked with my mom- and dad-in-law near the Twisp River. Then we meandered to the War Creek Trail where we parted ways. They led our son on a hike to look for interesting bugs. Meanwhile, my husband and I hopped on mountain bikes and cruised down the hill, along dirt backroads, over bridges, and along the winding smooth stretch of Twisp River Road.
The day was warm (in the low 80s) and there were thunderclouds rumbling in the distance. We had plenty of water and rain jackets stuffed in a pack just in case. Thankfully, we didn't get rained on. What we did get was a great showing of balsam roots (my favorite thing about spring in the Methow Valley) and other colorful blooms along the roads.
It was exhilarating to switch from bumpy backroads to smooth pavement with ease. We passed vibrant pine trees and aspen groves, expansive meadows, and playful ranch horses. And, we saw a handful of other people who were riding their bikes or driving with bikes bouncing on their racks.
When we rode along the backroads, the few people in cars we encountered slowed down to keep from dusting us with road dirt. (Thanks!) Along Twisp River Road, there was ample signage to let people know they were on a bike route, and people gave us plenty of room when passing in their cars. (Thanks some more!)
We met our family back at the house, but the ride could have easily extended back into the heart of town to get a treat at the Cinnamon Twisp Bakery (hint: try the cinnamon twisp!) or fresh locally roasted coffee from Blue Star before heading toTwisp River Pub for live music and dancing in the evening.
More To Do in Methow Valley
The popular out-and-back bike ride from Brown's Farm to the heart of Mazama, Washington, is another fun day trip, and it's especially suited to casual riders and older children. Park your car at Brown's Farm, and follow well-maintained trails to town (where you'll find a ton of bike parking). Expect to say "hello" to plenty of other friendly people on bikes, and treat yourself to lunch at the Mazama Store before enjoying the scenic ride back to your car.
Despite the Carlton Complex fire last year, which affected many people in the Valley, morels (a.k.a. tasty little mushrooms) thrive in the recovering areas around burnt trees and stumps. I am not at liberty to disclose our top secret morel foraging spot, but it is challenging and fun to look for them in late spring and summer.
For More Inspiration
Get more ideas for where to ride, eat, stay and play in Cycling Sojourner: A Guide to the Best Multi-day Tours in Washington. The tour "Epic Washington: North Cascades Highway to the Methow Valley" includes the towns of Mount Vernon, Concrete, Rockport, Marblemount, Mazama, Winthrop, Twisp, Carlton, Methow, Pateros, Chelan, Entiat, and Wenatchee.
Have a Favorite Ride to Share?
We welcome your stories about an easy ride for coffee, day trip, or multi-day tour stories. Use our "write your ride" form or email Louise McGrody with text, pictures, videos, drawings — whatever captures your ride to inspire others.