Bicycling with small children is a lot of fun – but it can also seem a bit overwhelming if you're just starting out. How do you choose what type of equipment to use? Is a trailer better than a bike seat? How do you get your toddler to wear a helmet? I have ten years' experience biking with children and I hope to answer some of your questions with this blog post. These are my experiences with the gear I have. I welcome your comments if you have used other gear or have thoughtful advice to offer to parents who want to start biking with their little kids. My family has one car, two working parents, a 12.5 year old in sixth grade and a 2.5 year old in daycare. We bike, drive, walk and bus to get to where we need to go. All of the gear I'm reviewing we purchased and used. No one has sponsored me or given me free items.
I always recommend trying to find used gear. As with everything, do some research so you know what to look for (is that a bike shop trailer or a big box store trailer?). Many of these items retain their value, especially if they are kept indoors. Depending on where you live these items often sell within a day or two of online posting. We had to set up an alert so we'd get an email as soon as someone posted the item we were looking for.
Bicycle Trailers
Bicycle trailers come in two sizes, single or double. They are great if you want to haul extra things like diaper bags, groceries, blankets, stuffed animals, etc. They are covered, so your little one is relatively protected from the elements. We have a Burley Double D'lite. It isn't 100% rain proof, but does a good job of keep my son dry on our bike rides.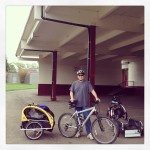 Approximate new price: $600
Pros: You can carry extra things; you can carry more than one child.
Cons: A bit pricey new; the double is wider than your bike; you can't easily do a bike/bus combo; and your child is further away from you so you can't easily talk.
Stories: My son and I biked to church one sunny morning and when we arrived I noticed he was only wearing one shoe. He had disposed of his shoe somewhere on the bike ride. He reached his little hand under the cover and dropped his shoe. His favorite red shoes. The only pair of shoes he had that fit him. I explained, as best I could to a two year old that throwing things out of the trailer was not safe and that he now had to go to church with one shoe on. We biked home the same route but didn't find the shoe. I've been keeping an eye out for that shoe for the past month, with no luck. I've always wondered how someone could lose just one shoe, now I know.
Front Mounted Seats
We bought an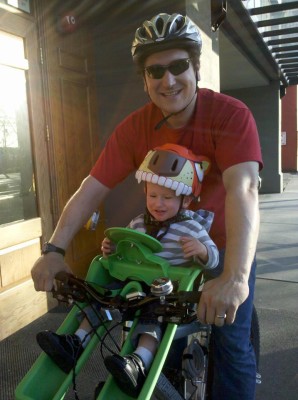 iBert when Charlie was about a year and a half. He instantly loved it. He loved being in the front of the bike, waving to people and observing the world around him.
Approximate new price: $100
Pros: A great way for your child to see and interact with their surroundings; it is fun for both passenger and driver; your rear rack is free to haul the diaper bag.
Cons: Not the best option when it's raining; doesn't work with all bicycle frames; only works up to about age two and a half or three, depending on child's height.
Stories: Charlie much prefers the iBert to the trailer, but unfortunately it doesn't fit on my bike. He enjoys waving to and saying "hello" to people on the sidewalk while biking with Dad. The two of them have logged many miles together and Charlie gets really excited when Dad picks him up at daycare with the bike.
Rear Mounted Seats
We had a rear moun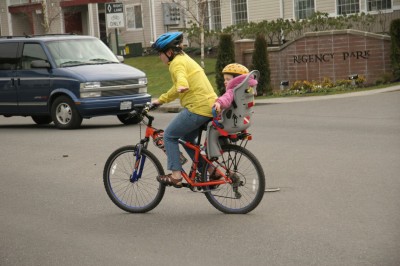 ted bike seat when our daughter Izabelle was a toddler. It worked great for us because 1. It was cheaper than a trailer and 2. I could put my bike on the bus with her seat still attached.  The seat we used was a ToPeak, and it had a special rack that went with it. That setup makes it easily to quickly take the seat off the rack. We bought two racks so we could each bike with Izzie.
Approximate new price: $170
Pros: Cheaper than a trailer; child is close to you so you can talk.
Cons: You can't use panniers; extra weight on rear rack takes getting used to.
Stories: I biked hundreds, if not thousands of miles with my daughter using a rear mounted bike seat. When she was around 3 or 4 would we play "I Spy" on the bike or play the rhyming game. I would say one word and she would rhyme it with another, and so on. It was fun and we have a lot of great memories playing those games. She would also encourage me to bike up hills by singing me songs.
Trail-a-Bike
Trail-a-bikes or tag-a-longs are a great way to bike with kids starting around age 3 or 4. They basically turn your bike into a tandem. Children are excited to be able to help you pedal and you'll be surprised how much they do contribute (when they actual pedal). There are a couple of versions available now. The one you are likely most familiar with is where the kids are sitting upright. When we used the trail a bike we bought an extra hitch so we could both use it on our bikes. Be sure you have a fender on your rear wheel otherwise your child will be covered in mud.
There is a newer version of trail-a-bikes made by WeeHoo that is a recumbent. One of the benefits to the recumbent model is that younger kids can use it and if they are tired they can sit back and relax.
Approximate new price: $250 – $400
Pros: Your child gets to help you pedal; can be used for kids who are too big for a trailer or rack seat, but not quite big enough for their own bike; great way for kids to experience bike commuting and learn rules of the road.
Cons: Child must be able to sit up and hold on (for non-recumbent model); long turning radius; can be wobbly.
Stories: We just found a WeeHoo on Craigslist after looking for about five months. We biked to the seller's house to check it out. My husband attached it to his bike and took Charlie for a spin in front of the house. After he pulled back into the driveway Charlie, age two, started to cry saying "I want to keep riding, I want to pedal". I think we'll log many miles and many smiles on it.
Cargo Bikes
I bought an xtracycle four years ago primarily to solve the dilemma of having to bike to drop off or pick up my daughter age 8 at the time, for one side of a trip. For example, I'd bike her to school, but she'd take the bus home. I needed my bike to get to work, but she couldn't bike home herself or take the bike on the bus. It was a great solution and a lot of fun. I ende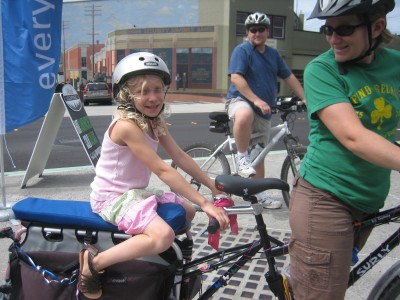 d up selling that bike a year ago, it was always a bit too big for me and I was having shoulder pain because of that fact.
Other cargo bikes that many families use (I haven't tried one) are bakfiets. These are the bikes that look like they have a box in between the handle bars and the front tire. Some models have the box in the rear. They are a great way to haul multiple kids and groceries or other supplies.
Approximate new price:  $1,200+
Pros: You can carry multiple kids and extra things.
Cons: Expensive; heavy; a bit hard to bike up hills.
Stories: My daughter's summer camp had a home base a few blocks from my work. Once every two weeks they'd have a camp-out which meant bringing a sleeping bag, pillow and all the other gear she'd need for an overnight trip. It also meant that I'd be biking her to camp, but she wouldn't be biking home that night. We were able to get all her gear and her on the bike. Cargo bikes are a fun way to challenge yourself to do more by bike and less by car.
Try it!
One of the best ways to decide which piece of equipment is best for you and your child is to try it. We found that most local bike shops unfortunately didn't have any of these items ready for test rides. You need to call ahead and the shop will often set one up for you. If that isn't an option hopefully you know a biking family who will let you try out their gear. Biking with kids is a lot of fun and it introduces the concept that the car isn't the only transportation mode choice at an early age. I hope these reviews are helpful and encouraging.
Please leave a comment if you've used other equipment to carry kids on your bikes or if you have a fun story to share.