Part II of David Killmon's weekend bicycle trip from Seattle to Tacoma and back again. Read Part I, To the Dome.
After arriving in Tacoma the night before from Seattle via the Interurban South Trail, we decided to try another route home. The ride down was great fun, but the last hour or so involved some nail-biting highway miles.
We were pretty excited, then, for the rural roads of Vashon Island, with its rolling farms and untouched forests. We'd been warned that compared to the interurban trail, Vashon would be pretty hilly, but it didn't feel like real Northwest riding if there weren't at least a couple of good rollers. Pumped to head back home, we set out that morning. For brunch. Obviously.
| | | |
| --- | --- | --- |
| | | |
We popped into the Old Milwaukee Cafe, which was adorned with tons of railroad knickknacks. We ordered our traditional brunch of a ton of food and even more coffee, and reminisced about the days of the iron road. We picked our favorite railroad barons (cough *Jay Cooke* cough) and snuck our forks onto each other's plates. I have a tendency to lose my cool when trains are involved, so mixed with my morning caffeine, I was pretty excited. On the outside wall of the Old Milwaukee Cafe was an awesome mural of a train named the Olympian passing through some handsome mountains. I decided to throw in a bike and a biker to add a certain modern spice to it.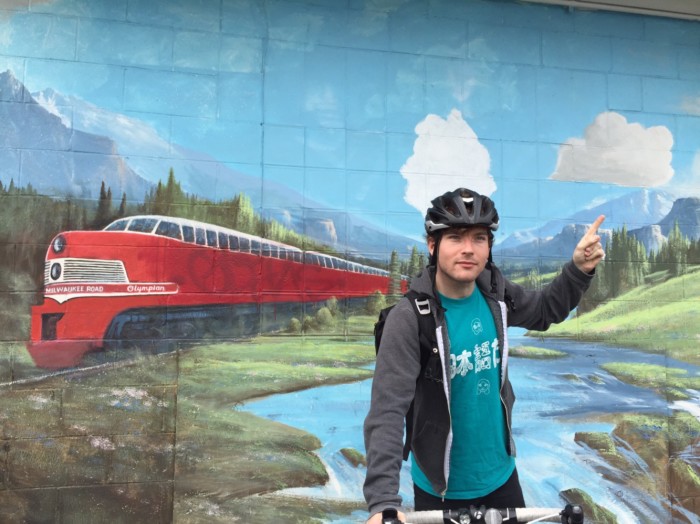 After being sufficiently stuffed to our gills with pancakes and coffee, we headed out towards the ferry. The cool thing about this route was, since we were riding over an island, the trip would be bookended with ferries. Google Maps took us through a couple of different neighborhoods in a more residential Tacoma, and plopped us out at Point Defiance Park. Those neighborhoods were a pleasure to bike through, with quiet streets and bike lanes galore. It was also downhill the entire way, which was amazing.
We zoomed into the ferry terminal at Point Defiance, bought our ferry tickets and rolled onboard. If you've never taken your bike on a WSDOT ferry, it's a real treat. Bikes get to go on by themselves (before or after the cars); tie your bike up with rope to the wall and go explore the ferry deck.
Once we arrived at Vashon Island, we hopped on our bikes and braced ourselves for the first hill. Most islands that you can get to by ferries tend to have really rough hills when you first get up, since the ferry dock is at sea level. The northern ferry dock on Vashon Island, the one that connects to West Seattle, is such a hill. Riding up it can really knock the breath out of you. I was pleasantly surprised, however, that the southern ascent up Vashon was a bit longer, but a much more mild gradient. No granny-grinding on this hill! I threw it into high gear and raced up to the top, while my friends rolled up enjoying the wide shoulders and taking in the scenery.
| | |
| --- | --- |
| | |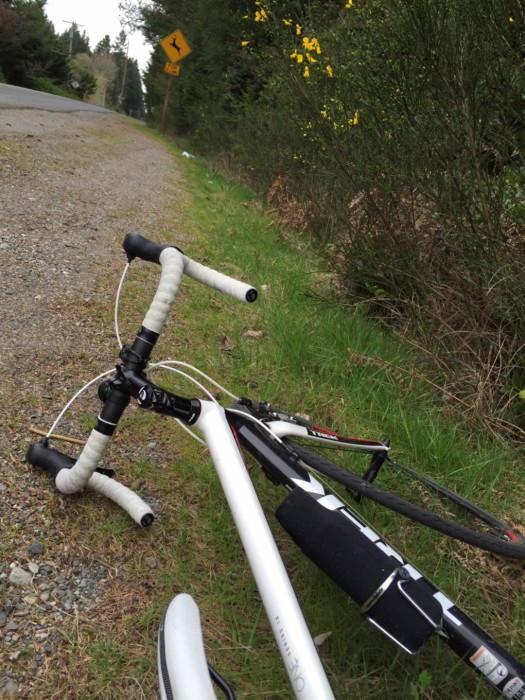 You can follow Vashon Highway from one end of the island to the other without having to detour at all, but we decided to mix it up and travel down some roads we've never ventured on before. That's the cool thing about Vashon Island; even if a road lacks the luxurious shoulder of Vashon Highway, they're all super quiet, low traffic roads, so I always feel safe exploring.
Waxorchard Road, the diversion we decided to take, took us by tons of horses, goats and even alpaca, grazing and occasionally looking up as we passed by. Farms and forest lined our path a huge chunk of the ride, but they were always different and they all had their own character. People sit out by the road, waving and smiling as you ride by. It's a pretty awesome place to bike and it's a total switch from the city.
The best part was, it wasn't supper hilly. Yet. Once we had to rejoin Vashon Highway, there were some steep grades to climb. They were all pretty short, but they got your heart pumping. To be fair though, there were also many a steep decent, where you could speed up to your heart's content while your legs took a break.
Now, every person who bikes on Vashon has a duty and obligation to pay homage to some of Vashon Island's most hallowed spots. Chief among these hallowed spots is of course, the great bike in a tree. When I first came to Vashon I had a wicked hard time finding this little gem, but on this trip, a little older and a little wiser, my friends and I were able to find it with ease.
The bike in the tree is something I'm sure there's a story for, even a well-documented history probably, but it's also one of those things that's fun not to know the details about. We have a story that the bike that now sits in the tree was once waiting on a red light that never changed and was conquered by time as trees gobbled it up. It's pretty much the best thing in the world to make up stories about the bike in the tree, and I encourage you to go and do it too (also, there are wild blackberries in the summer, everywhere).
As you continue further north a few blocks, you also encounter another Vashon Island landmark, the Vashon Island Coffee Roasterie. The building itself is cool because it predates both the city of Vashon to the north, and Burton to the south, and is made of old growth island fir. It was also the home of Jim Stewart's original coffee shop, the Wet Whisker, which would one day become Seattle's Best. The building has a cafe, coffee museum and a little bookstore tucked in it, all of which is super charming. The coffee is, of course, awesome as well including my personal favorite, the lavender latte.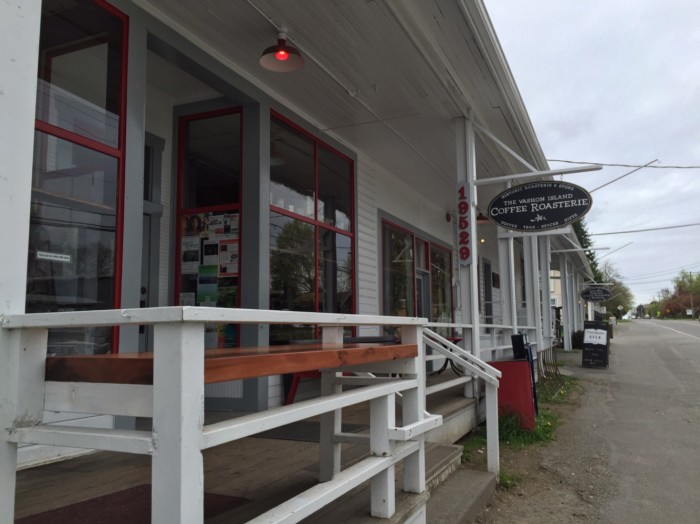 We stopped for a snack in the city of Vashon, a few blocks north of the roasterie, but didn't linger because we were still pretty much stuffed from breakfast. Downtown Vashon has a ton of really delicious restaurants and bakeries so it's always sad when you go there on a full stomach.
We rode through town and continued north on Vashon Highway (which I feel I should say is less of a highway and more of a two-lane road with huge shoulders). We eventually made it to the top of the huge hill next to the ferry dock and descended at light speed. Exiting the island by ferry is free, so we just walked our bikes onto the ferry and went to enjoy the view.
Once we got back to West Seattle, we headed up from Fauntleroy to California Avenue, and that's when we called it a day. We went to our friend's house, washed our faces and raided the pantry. We were all surprised though, that the day's journey had only been 25 miles. And while it was hilly, it really was very relaxing and fun. Quiet roads are more important than hills any day.