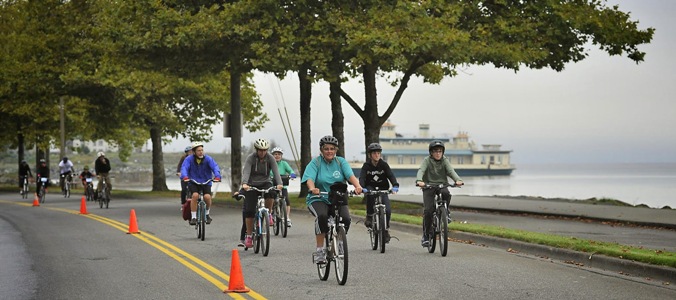 This post comes to us from Lowell Wyse, Sustainability Intern for the City of Tacoma.
Bicyclists know the empowering feeling of "taking the lane," asserting their legal rightto ride on a street where motor vehicles normally reign supreme. Next month in Tacoma, that feeling will be widely available to everyone—for four glorious hours!—as people flock to Tacoma for the Sunday Parkways event known as Downtown t0Defiance.
On Sunday, September 13 from 9am – 1pm, the City of Tacoma and Metro Parks will host this 3rd-annual Open Streets event, opening up almost seven miles of roadways to all forms of human-powered transportation. The course runs along the Foss Waterway and Commencement Bay waterfront areas, from south downtown near the Tacoma Dome to the end of the Ruston Way and the Waterwalk near Point Defiance Park. There will be additional activities in five parks along the route, including lawn croquet, an obstacle course, a skateboard park, and food trucks. The event is free to all members of the public, and the first 500 people to register at DowntowntoDefiance.com will be entered to win a $100 gift certificate to a local business.
Why you should go:
The scenery on the route is crazy beautiful. Seals (and sometimes orcas) frolic just offshore. The view of Mount Rainier from sea level is insane. Point Defiance Park, just beyond the official course, is an urban old-growth forest with 5 miles of paved roadway and great views of the Sound. It's all gorgeous, even when it rains.
The event is geared toward all ages and abilities. This is a festive event that brings all kinds of people out into the streets, with people on feet, bikes, scooters, unicycles, wheelchairs, skateboards— any  human-powered mode you can imagine! Participants are invited to join the course at any point along the route. You can jump in and out at your favorite spot, bike the full round-trip route, or just keep on going. An extended ride could take you around the 5-Mile Drive at Point Defiance, over the Tacoma Narrows Bridge or on the ferry over to Vashon Island. You've got options!      
You can get there with transit. The downtown starting point is only blocks away from the Tacoma Dome Station transit center, with express buses arriving from Olympia, Seattle (downtown and U-District), and places in between. The "Defiance" end of the course is accessible via the Vashon Island ferries. More information about the transportation options is available atSound Transit, Pierce Transit, Downtown Tacoma Bike map (pdf), Pierce County Bike map, and Washington State Ferries.
Open Streets events raise public awareness of and enthusiasm for bicycling.We should support them! (If you can't attend, you can always make a donation.) This is the only event of its kind in the South Sound region. Tacoma has an increasingly active bicycle culture including Kidical Mass and Velofemmes, an awesome Bike Swap, and a mayor who declared 2015 "The Year of the Bike." Downtown to Defiance is also a way of leveraging support for a proposed trail along the waterfront, which would increase safety and enjoyment for all users.
To view photos from previous years and find out more information, including how tovolunteer at the event, visit DowntowntoDefiance.com or Tacoma Mobility. We hopeto see you there!