Guest blogger Nancy Yu writes about her bike travels at Ride Chronicles. She says, "I l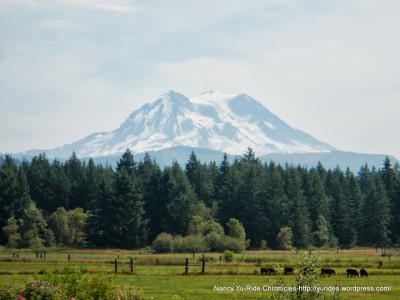 oved cycling around Washington. It's a beautiful state with a wonderful network of trails and bike-friendly people. I ride to explore and love sharing my findings! I hope the write-ups and pictures will inspire those who can to get out there and enjoy the natural beauty of all that is available to us."
This ride begins from Orting and heads south along Puyallup River on Orville Rd E through the valleys to Lake Kapowsin and Ohop Lake. It continues on WA-161 N/Meridian Ave E at Eatonville for a stop at the Dogwood Park-a Viewpoint Area with unobstructed views of the iconic Mount Rainier! The rolling hills on 352nd St, 8th Ave and 304th Ave SE take us through the quiet rural towns with the occasional logging trucks passing by.
We exit Orting on Harmon Way S/WA-162 and continue on Pioneer Way E/WA-162 to the outskirts of town.
Oroville Rd E takes us out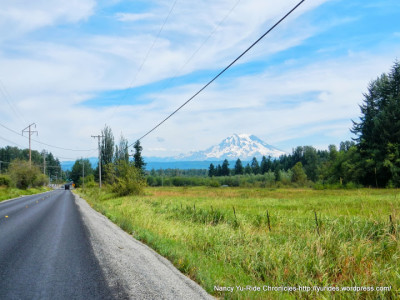 through the flat agricultural farmlands and ranches around Puyallup Valley.
A good segment of this road follows an old railroad grade along Puyallup River out to Lake Kapowsin. This is also a heavy logging area with trucks pulling in and out of the roadway to Kapowsin-be cautious!
Orville Rd E heads south at the four way intersection for another few miles along the southern end of Lake Kapowsin.
It continues to wind its way along Ohop Creek on the edge of the woods around Northwest Trek Wildlife Park. The road runs through Ohop Valley to Ohop Lake; this area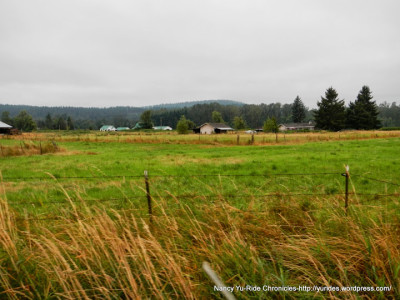 had many lakefront homes with private boat docks. The end of the road leads us to Eatonville; a small town located in Pierce County.
The short climb up WA-161 N/Meridian Ave E takes us up to the edge of town to the open clearing at Dogwood Park. This park is designated as the Mount Rainier Viewpoint with spectacular views of the majestic Mount Rainer (on a clear day!) This is a MUST STOP for photo-ops!
We continue up the road to our lunch stop at Barney's Corner Mini Mart/gas station. This place makes hamburgers, hot dogs and serves other typical mini mart foods. Everyone was very friendly including the customers going in and out. They all wanted to know where we rode out from and to see if we needed any directions getting back to Kapowsin and Orting, and most of them just wanted to have idle chit chat.
WA-702 W/352nd St E/McKenna Tanwax goes through the rural neighborhoods of Eatonville out to the clearing and logging areas to the open pastoral lands.
The rolling hills on 8th Ave E lead us to 304th St S/Kapowsin Hwy E.
The 10 mile stretch of road on 304th St E/Kapowsin Hwy E from Eatonville to Kapowsin has been recently redone with new pavement-fabulous! This road goes through rural neighborhoods with acreage homes and ranches. Mt Rainier looks like it can be seen from everyone's front or back yards!
We make a quick stop at the Kapowsin Grocery for a few cold drinks and salty snacks before heading out on Orting Kapowsin Hwy E. The 8.9 miles on this road takes us through more rural country sides with expansive open fields and meadows. Mount Rainier is still in sight-of course! The sweeping mile long descent drops us to the Puyallup River crossing and back to Orting.
This is a very scenic ride through the small towns of Pierce County with gorgeous country landscapes and beautiful lake views. Mount Rainier is always the highlight when it comes into view! The people are friendly and the logging traffic is very tolerable; the truck drivers gave us way more than three feet while passing!
Garmin Stats:
55.54 Miles with 2385′ of elevation gain
Max elevation: 589′
Max grade: 6%
Terrain: Mostly flat to rolling climbs
Weather: GREAT! Partly-cloudy morning skies turning to brilliant sunshine in the afternoon. N winds with 94% humidity