Partnership brings bicycling to low income kids
Today's post is written by guest blogger Amy Horstman of Vancouver. A year round bike commuter, Amy is a dedicated volunteer for Bike Clark County. She serves as their newsletter editor and helps with their bike safety and maintenance programs. This article first ran in the Bike Clark County February 2014 newsletter. Photo credits: Marcus Griffith.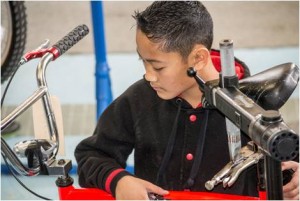 Bike Clark County's shop was bustling with energy and excitement last month as a handful of pre-teen boys learned the fine art of bicycle repair from BCC volunteer mechanics. Vancouver Housing Authority (VHA) staff brought ten kids from their Vancouver Heights Skyline Crest low income housing facility. Each kid brought their bicycle to the shop and was paired with an adult for a hands-on bike repair learning opportunity. At the end of the day each young person left with a tuned-up bicycle, some new repair skills, and a brand-new properly fitted helmet. In return, they helped clean and organize the shop, strip tires from wheels, and test out tubes for leaks. The repair day was a successful lead-off in what will clearly be a longer term partnership.
VHA Community Family Resource Coordinator Sharon Linn and Community Health and Wellness Advisor Sara Angelo are based out of the Skyline Crest Rise and Stars Community Center (RSCC) which provides a variety of programs to encourage community building, healthy activity, and self-sufficiency for residents of this community. Over 50% of the residents are kids, which provides a host of opportunity and challenges. The RSCC's website highlights a variety of programs for youth, adults, and families.
Bicycles are a part of the vision for Skyline Crest according to Sharon, "Our advocates try to encourage families to ride together every summer. But sometimes the bikes are broken or too small or they don't even have them." This led Sharon and Sarah to connect with Eric Giacchino and Bike Clark County in a very promising partnership.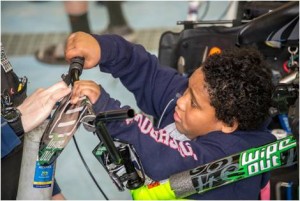 We hope to establish a long-term relationship between Skyline Crest and BCC given the high degree of overlap in goals. Additional events are being planned with this same group of enthusiastic youth, including future bike repair skills training days as well as bicycle riding skills and safety training events. A larger scale vision is being developed and could include summer bike camps, 'earn a bike' programs, and junior mechanic training to create an internal mentorship program within the Skyline Crest community. "I really like the idea of residents leading residents," said Sara, "Learning what people's gifts are and helping them share those."
The goals are initially focused on youth, but could easily be expanded to include adult focused activities such as bike commuting tips and safe route finding, bicycle repair, and even avenues to earn a bicycle for those who lack this efficient and inexpensive mode of transportation.
Skyline Crest hopes to get more adults on bicycles, "A mom may not have a car, but if she has a bike she can get to the store or to an after school program. We also want to do a 'Rent a Bike' program in the neighborhood. So people can use them for 12 or 48 hours or whatever they need so that parents can ride with their kids," said Sharon.
BCC Shop Manager Aaron Gibson shares this vision, "Another program aspect we want to look into is helping veterans and other adults get around to work or to look for jobs and helping college kids get to school."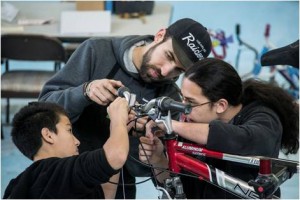 Sara, who initially moved to Skyline Crest in 2006 and assumed her position with VHA in 2011, has noticed a positive change in the community dynamics. "It was a different feel back then. It's much better now. I can't get over how friendliness changes people". Working directly with youth and families, she says that, "You really find that they want to be here. We want to capitalize on that. Learning to be self-sufficient is definitely in the motto" and bicycles can be a big part of that.
"These are the kids that are going to grow up and either be the next generation in the cycle or we're going to branch out and not be in housing. I think giving kids in any way possible a broader sense of what is beyond is important. 'Here is your bike and here is how to fix it'. A chance to open up their eyes to possibility is essential to breaking the cycle," said Sara.
It seemed that the kids felt that as well. In a large poster 'thank you', they include messages such as, "We break it, we fix it!"; "The bike guys"; and, "This is a great thing your organization does for the children of our community."
"This event was the epitome of what Bike Clark County is all about – getting kids safely on bikes. If our volunteers can find partnerships to help grow and expand what we did on this day I would be so happy. The kids were great and so thankful – they wore their bike helmets in the van the whole way home! I also have to thank all the amazing volunteer mechanics – without their help and generous donation of their time, none of this would be possible," said Eric.
Next steps will be to continue to engage this same group of age 10-14 year old boys and to expand participation to additional children including older teenagers and girls. We will also be hard at work developing an outline of specific events, fleshing out an entire at-risk youth bicycle mentorship program, engaging more adult mentors, and identifying potential funding sources. If you would like to volunteer to be a part of this effort, or would like to donate to this effort please email us.
You can follow Bike Clark County on Facebook.