Looking for a way to celebrate and show that Washington Bikes in Snohomish County? This Saturday, February 15 at 9 am, Snohomish County leaders will join in Snohomish to celebrate and officially sign the purchase agreement with the Port of Seattle to extend the Centennial Trail another 12 additional miles south as a multimodal connection for bikers, walkers, and rail.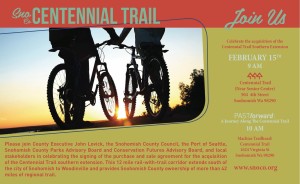 The extended trail will link the city of Snohomish with Woodinville, Redmond and Renton. It will serve as a major next step in connecting the region's trail network, ultimately including the Burke Gilman, Eastside Rail Corridor and East Lake Sammamish Trails.
The 12 mile extension creates a 42 mile trail stretching across the entirety of Snohomish County and reaching the borders of King and Skagit counties. The extension will grow the trail and the County as a destination for both locals and visitors, alike. Bicyclists are wallets on wheels – biking customers are fueled by calories and typically stop – and spend – in every town they pass through.
The signing ceremony begins at 9am at the southern terminus of the Centennial Trail (504 4th St., Snohomish).
Afterwards, the party heads north to unveil Snohomish County's new PASTforward program at the Machias Trailhead (1624 Virginia St., Snohomish).
"The PASTforward program is a fascinating look at our county's history," said Parks and Recreation director Tom Teigen. "Our industrial and agricultural roots are incredibly diverse, and I think people will be amazed at some of the stories they discover. It's worth a walk down the trail this spring just to check out these new interpretive signs." Snohomish County is hosting a new website on the Centennial Trail that features this rich history: http://www.centennialtrail.com/
Hope to see you there!
Blog Posts to Inspire Your Snohomish County Bicycle Trip
Sign Up to Receive Updates on Biking in Snohomish County