Washington has been No. 1 in the League of American Bicyclists state-by-state comparison since its inception more than a decade ago. In its 2022 ranking, which is based on 2021 data and a new scoring methodology, the League puts Washington behind Massachusetts and Oregon at No. 3. While the ranking has some merit in terms of highlighting where Washington can do better, the 2022 scorecard has been announced shortly after the Legislature approved and Gov. Jay Inslee signed into law the largest funding package for bike infrastructure and education in state history. So we encourage everyone to take this ranking with a grain of salt. Here are seven things to know about Washington's Bike Friendly work, and our take on the League's scores.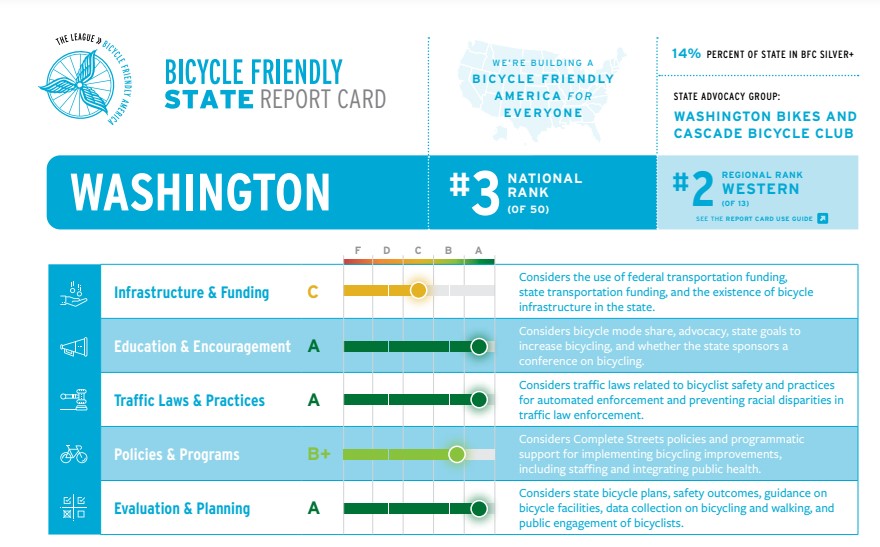 Washington is improving. Perhaps most useful in the rankings is to look at how a single state is performing year on year. The last rankings were pre-pandemic (2019). Since then, Washington has improved on many scored areas, including statewide active transportation plans, environmental justice, and multimodal transportation revenue. WA receives an "A" score in three of the five scored areas:
Adopted WSDOT Active Transportation Plan–a framework for ensuring there is an active transportation network across Washington state.
Passed the Healthy Environment for All (HEAL) Act, which defines 'environmental justice' in state law, and outlines how agencies should consider community needs and environmental justice (EJ) in their work. This requires that WSDOT use an equity framework in all project and funding programs to ensure that communities most impacted by transportation projects are prioritized.
Passed the Climate Commitment Act (CCA) which created the first-ever large revenue source dedicated to funding multimodal transportation projects.
2. 2022 Legislative wins aren't considered. The Bike Friendly State scores are based on 2021 data, meaning massive investments in active transportation won in the 2022 legislative session weren't factored in. Washington got a "C" grade for Infrastructure and Funding even though our Legislature approved the largest funding package for bicycling in state history in the form of Move Ahead Washington in March. Here are three huge legislative wins that were not considered:
$1.1 billion in active transportation funding going directly towards better biking, walking, and rolling infrastructure across the state.
$216 million going towards statewide youth bike education, giving kids the skills to bike for fun and transportation.
Requires WSDOT to build Complete Streets when advancing any project over $500,000 (which is the vast majority of WSDOT projects).
Those legislative wins will trickle down into results on the ground, which will improve safety and ridership–the core metrics for a bikeable community.
3. The new scorecard includes less emphasis on proactive bike legislation–a strength in Washington, and one of the keys for safer bicycling. The League's new methodology means Washington got fewer points for implementing important laws such as the Safe Passing law, the Safety Stop, Distracted Driving measures, and a Vulnerable Road User law. These important laws didn't raise our score this year despite their importance.
4. Emphasis on inaccurate federal data. The folks in D.C. who crunch federal biking data state very clearly that this data should not be used for state-by-state comparisons (i.e. scorecards), but unfortunately, with no other consistent cross-state data source, this is the data the League relied upon. It's unclear if the federal mode-share data is an accurate reflection of Washington state bike ridership.
5. Much to celebrate, but so much more to do. Much of the influence over safe, accessible, comfortable, and convenient biking in a given state comes down to state and local planners and the elected leaders they report to. The state Legislature will look different in 2023: every member of the Washington state House of Representatives will be on the ballot this November. With a slew of representatives and senators stepping down, there will be some seat shuffling, and more than a typical number of open seats up for grabs. Washington Bikes is looking forward to the 2022 Election with gusto. Our state needs more elected bike champions who see the connections between biking, transportation, climate, and health.
6. Does a ranking even matter? At the end of the day, it's people's experience on bikes in communities across Washington (and the entire US) that are the real litmus test for "bike friendliness". Do you feel comfortable putting your kid into a bike seat and pedaling them to the store with you? Do you have to white-knuckle through portions of most of your rides? These are the questions that get to the heart of whether a state is bike friendly. A country-wide evaluation based on high-level, and sometimes inaccurate, data won't answer these questions. All in all, take this new methodology and ranking with a bit of skepticism.
7. Oregon and Massachusetts: Let's talk! For all its shortcomings, the rankings show which states are innovating and having success improving safety for people on bikes–and thus where Washington, too, can learn and grow. We're excited to have some competition in this ranking, despite its faults. We want to know what policies and practices we can put to work that are leading to success in other states. We are eager to collaborate with and share knowledge with Massachusetts and Oregon to identify policies and practices that make bicycling safer and more equitable for everyone.