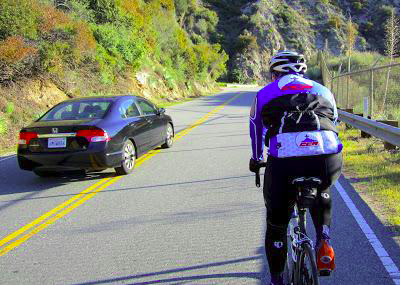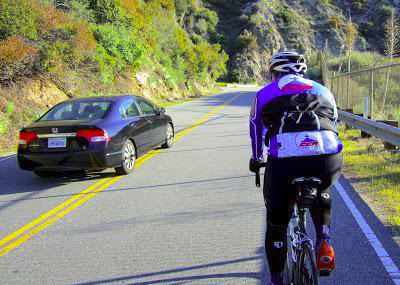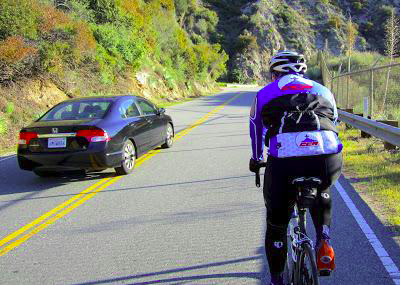 A member who's a Kitsap County resident told us this story just the other day:
A friend and I were riding on NE Bear Creek-Dewatto Road in Mason County. Middle of nowhere – if you Google Map it you'll see. (Our note: If you look on Google Maps you won't see a street view–that's how quiet this stretch of road is.) We were followed by a driver for probably two miles, maybe 8 minutes – actually we were concerned they were going to run us off the road or something similar because we were in such a remote location. We finally decided we had to slow to a near stop and just confront it and that's when they passed us. When they finally came by, the woman in the passenger's seat rolled her window down and said, "We didn't think we could pass you because of the double yellow line."
Why does something like this happen? Because on Washington ro
ads it is illegal for 
a driver to pass a person on 
bike or foot by crossing the centerline 
of a roadway!

Mind you, a driver can cross the double yellow line to pass an "obstruction"–like a rock or a load that fell off the back of someone's truck.
If you've ever crossed the double yellow lines on an empty road to safely pass a person walking or biking on the shoulder you know it's just commonsense, courteous behavior and something responsible Washingtonians do every day.
We just want to make sure you don't get a ticket for doing something so sensible. That's why we introduced the Safe Passing Bill (SB 5564). It will be up for a hearing in the Senate Transportation Committee on Feb. 12, which also happens to be Transportation Advocacy Day, so we expect quite a few friends to be there listening.

The bill would simply clarify that a driver may legally cross the double yellow line "when overtaking and passing a pedestrian or bicyclist so as to maintain a safe distance of at least three feet." Pretty simple, really.
Drivers are still expected to watch for oncoming traffic and make safe decisions. We just know that roads engineered for the closing and passing distances of motorized vehicles traveling at their rates of speed may have double yellow lines in locations that allow plenty of time to get around someone on a bicycle or on foot.
Do you have a "double-yellow" story? Share it in the comments below! To get word when it's time to take action on this and other bills before the legislature, sign up for our email news.