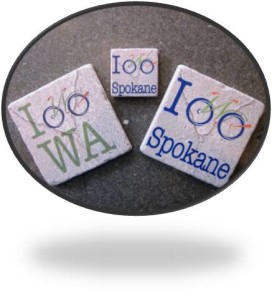 If you love all things bicycle and you live in Spokane, then you don't want to miss the Spokane Bike Swap & Expo this weekend, April 12 and 13.
Organized as a benefit for the Friends of Centennial Trail, the Spokane Bike Swap is the place to buy new and used bikes, swap your old ones, connect with bike groups like us, practice using the bike rack on transit buses, and more!
Be sure to drop by the Washington Bikes booth to say hi and meet our Spokane staff member Kate Johnston. You can pick up a copy of our popular Washington Bike Laws pocket reference, refresh your trail etiquette with our Share the Trails rack card, and learn about our new programs serving the Inland Northwest.
We'll also have our pop-up retail store at your service! You can join or renew your WAbikes membership, and purchase our made-in-Washington bicycle themed merchandise–like our new jersey and the I Bike Spokane and I Bike WA items shown here. You can also buy raffle tickets for our spectacular Walla Walla Bicycle Weekend.
Check the Spokane Bike Swap website for more details about the event and we hope to see you this weekend!
Contact Kate Johnston if you'd like to volunteer at our bike swap booth!